ISAAA Publishes "Bt Cotton in India: A Multipurpose Crop"
May 6, 2011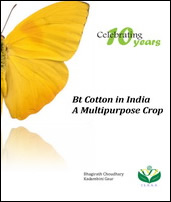 ISAAA released a new document "Bt Cotton in India: A Multipurpose Crop", which is the first volume in a new series of publications to mark the 10th year of Bt cotton cultivation in India. The series "Celebrating a Decade of Bt Cotton in India" will feature comprehensive overview of adoption, spread and socio-economic and farm level impact of Bt cotton in India from 2002-2011.
The short document is a user-friendly, comprehensive and rich source of information on the multi-purpose utility Bt cotton in India – the first biotech cotton crop to be approved in India in 2002. It includes authoritative statistics and references on the utility of Bt cotton crop for food (oil), feed (cake) and fiber (kapas) that has been gaining popularity in the country. The series is produced by researchers of the International Service for the Acquisition of Agri-biotech Applications (ISAAA). A major portion of the document is excerpted from the "Global Status of Commercialized Biotech/GM Crops: 2010", ISAAA Brief 42, authored by Dr. Clive James.
For a copy of the publication "Bt Cotton in India: A Multipurpose Crop", contact b.choudhary@cgiar.org and k.gaur@cgiar.org or visit ISAAA India Biotech Information Center at http://www.isaaa.org/india
Biotech Updates is a weekly newsletter of ISAAA, a not-for-profit organization. It is distributed for free to over 22,000 subscribers worldwide to inform them about the key developments in biosciences, especially in biotechnology. Your support will help us in our mission to feed the world with knowledge. You can help by donating as little as $10.