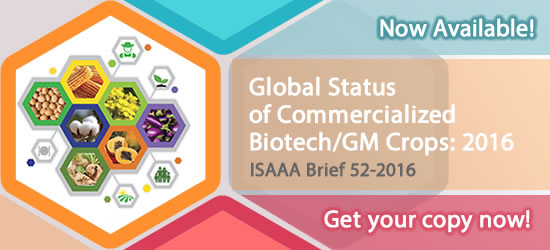 ISAAA Brief 52-2016
The year 2016 was momentous since for the first time, Nobel Laureates released a statement in support of biotechnology and condemning critics in their critical stance against the technology and Golden Rice. The UN Food and Agriculture Organization, International Food and Policy Research Institute, the G20 countries and other like-minded bodies, guided by 2030 Agenda for Sustainable Agriculture have committed to eradicate hunger and malnutrition in 15 years or less.
Download Full Brief: PDF (2.53) | ZIP (2.27)
Executive Summary | Press Release | Infographics | PPT Slides and Tables | Contents | List of Tables and Figures | Order Online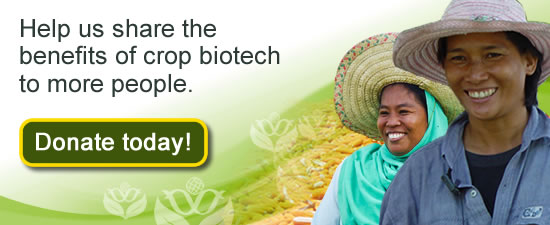 Crop Biotech Update | Biofuels Supplement
What is the latest on crop biotechnology? Find out the latest world developments in crop biotechnology that are of relevance to developing countries. The Crop Biotech Update features concise news every week and is also available through the KC subscription service.
Special Edition: Nairobi ABBC-2015 Declaration: Lift Ban on GMO Imports in Kenya

See contents of latest Crop Biotech Update Issue
Highlights of the 2016 ISAAA Report
Messages to the Public
The summarizes the messages of biotech experts and stakeholders to the public. It addresses concerns on the safety of biotech crops and highlights the importance of public understanding of biotechnology, as well as the benefits that the public can get from biotech crop adoption.
Potential Benefits from Adopting GM Crops
This video presents the viewpoints of biotech experts and stakeholders from different countries about the possible impact of biotech crops in case non-adopting countries decide to commercialize biotech crops.
Benefits of Countries from Adopting and Importing GM Crops
This video presents the viewpoints of biotech experts and stakeholders from different adopting countries such as Burkina Faso, Brazil, South Africa, and China.
From the BICs

ISAAA India Biotech Information Center
releases two new publications on Impact of Bt Cotton in India. The two new documents "
Adoption and Impact of Bt Cotton in India, 2002 to 2010
", and "
Socio-Economic and Farm Level Impact of Bt Cotton in India
" are part of the series of publications to mark the 10th year of Bt cotton cultivation in India. The series "Celebrating a Decade of Bt Cotton in India" will feature comprehensive overview of adoption, spread and socio-economic and farm level impact of Bt cotton in India from 2002-2011.

Malaysian Biotech Information Centre (MABIC) publishes a monthly free newspaper on biotech that aims to bridge biotech and the society. "The Petri Dish" signifies the increasing importance of biotech in our life style. The paper is to dish out all the interesting and innovative research work at universities, research institutes and industry and make it palatable for the society.
John Templeton Foundation Project