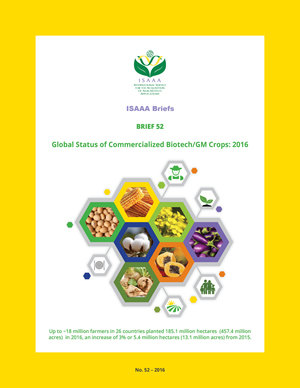 Global Status of Commercialized GM/Biotech Crops: 2016
Executive Summary | Press Release | Infographics | PPT Slides and Tables | Contents | List of Tables and Figures
Video: Highlights of the 2016 ISAAA Report
Download Full Brief (PDF) Download Full Brief (ZIP) Buy a Print Copy
What is the latest on crop biotechnology? Find out the latest world developments in crop biotechnology that are of relevance to developing countries. The Crop Biotech Update features concise news every week.
ISAAA presents an easy to use database of Biotech/GM crop approvals for various biotechnology stakeholders. It features the Biotech/GM crop events and traits that have been approved for commercialization and planting and/or for import for food and feed use with a short description of the crop and the trait.
Latest update (March 23, 2018): Brazil approved the soybean events DP305423 (PQ), DP305423 x GTS 40-3-2 (HT + PQ), and MON87751 x MON87701 x MON87708 x MON89788 (HT + IR) for commercial use.