African Scientists Challenged to Invest in Developing Communication Skills
July 18, 2018
Young African scientists have been challenged to invest in honing skills that enable them to effectively communicate to non-technical audiences. This would help policy and decision makers appreciate and prioritize research as a sustainable tool in the fight against food insecurity and malnutrition in the continent. This emerged during a
science communication
workshop for bioscience research fellows and interns held on July 10, 2018 in Nairobi, Kenya.
Speaking at the event, Dr. Iain Wright, Deputy Director General, Research and Development at the International Livestock Research Institute (ILRI) emphasized the need for young scientists to learn from best communication practices, how to effectively reach out to government officials and convince them on importance of agricultural research. "In order to attract sufficient funding into agricultural research projects, scientists must articulately justify how the projects impact farmers, government and the society as a whole," Dr. Wright told the young researchers.
ILRI's head of Capacity Development Dr. Wellington Ekaya regretted the inability of most scientists to simplify their language when communicating to different stakeholders. ISAAA AfriCenter Director Dr. Margaret Karembu echoed Dr. Ekaya's sentiments decrying the wide communication gap between scientists and key decision makers. This calls for concerted efforts to build capacity of science researchers to repackage their complex project results into easy-to-comprehend knowledge products. "Effective science communication is about putting science into use by helping the 'public' meaningfully interpret research results good enough to make informed choices," Dr. Karembu explained.
The fellows and interns learned a wide range of communication fields including principles of effective communication, message development, stakeholder engagement strategies and media relations. The workshop was organized by ISAAA AfriCenter in collaboration with the International Livestock Research Institute (ILRI) Capacity Development Unit.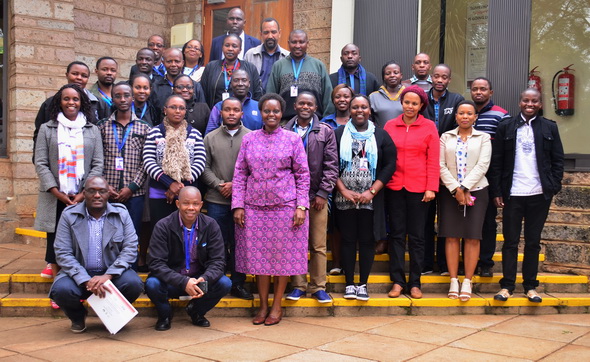 For more information on this and other bioscience developments in Africa, contact Dr. Margaret Karembu at mkarembu@isaaa.org.

Biotech Updates is a weekly newsletter of ISAAA, a not-for-profit organization. It is distributed for free to over 22,000 subscribers worldwide to inform them about the key developments in biosciences, especially in biotechnology. Your support will help us in our mission to feed the world with knowledge. You can help by donating as little as $10.