Socio-economic Aspect of GM Crops Highlighted in Symposium
July 18, 2018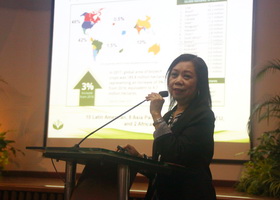 Science and economics merged during The Economics of Biotech Crops: A Symposium to Promote Economic and Financial Literacy symposium held on July 17, 2018 at the SEARCA Umali Auditorium, Los Baños, Laguna, Philippines.
The half-day event was a joint collaboration of the Southeast Asian Regional Center for Graduate Study and Research in Agriculture through its Biotechnology Information Center (SEARCA BIC) in partnership with the International Service for the Acquisition of Agri-biotech Applications (ISAAA), International Rice Research Institute (IRRI), and the Philippine Economic Society (PES) toward the implementation of Republic Act No. 10922 (Economic and Financial Literacy Act of 2016) and in observance of Nutrition Month this July.
More than 60 participants composed of scientists and experts as well as representatives from the academe, national and international agencies/institutions, partners from the biotech and business sectors, and media practitioners were informed on topics centered on the socio-economic aspect of GM crops, including the global status of biotech crops presented by ISAAA's Dr. Rhodora Aldemita, IRRI's research on biotech rice by Dr. Russel Reinke, the socio-economics of Bt Eggplant by Dr. Cesar Quicoy, and the social and economic impact of biofortification through genetic modification by Dr. Matty Demont.
Dr. Maja-Leah Ravago, PES President, underlined the significance of looking at the economic and financial prospects of biotech crops because ultimately, maximizing the profits of the farmers is most important. She also expressed PES' support in ensuring that accurate information from the experts is communicated to the public. Meanwhile, Dr. Desiree Hautea, Project Leader of the Bt Eggplant Project, agreed and commented during the open forum that one of the things that will always make bottomline to anyone is economics. She added that this poses a challenge to the economics partners on how they can impact the communications discourse with science-based information.
For more information on biotechnology developments in the Philippines, visit the SEARCA BIC website.
Biotech Updates is a weekly newsletter of ISAAA, a not-for-profit organization. It is distributed for free to over 22,000 subscribers worldwide to inform them about the key developments in biosciences, especially in biotechnology. Your support will help us in our mission to feed the world with knowledge. You can help by donating as little as $10.