TWAS-ARO Organize S&T Education for Sustainable Development in Arab Region Conference
January 15, 2014
The World Academy of Sciences for the advancement of science in developing countries' Arab Regional Office (TWAS-ARO) held its 9th Annual Meeting on 29-30 December, 2013, at the Bibliotheca Alexandrina. On the occasion of its annual meeting, an inter-disciplinary forum on science and education was held with the theme: Science & Technology Education for Sustainable Development in the Arab Region. This forum brought together TWAS-ARO members and young affiliates, along with other distinguished speakers, to highlight the linkages between science, technology and society, through discussion of issues related to quality, relevance, and equity in the Arab countries' education systems.
In his opening remarks, Dr. Adel El-Beltagy, President of the Governing Board of the International Centre for Advanced Mediterranean Agronomic Studies (CIHEAM), Chair of the International Dryland Development Commission (IDDC) and TWAS Arab Region Council Member, stated that "There must be a bridge based on science to promote us to a better life, support scientific communication and dissemination of information, and above all, to make decisions based on science and knowledge". He added that Egypt already has developed wheat with drought tolerance but is pending approval for large scale field trials. Dr. Ismail Serageldin, Director, Bibliotheca Alexandrina (BA), likewise noted that scientists must understand the case of climate change and its influence on the environment. He called on the use of scientific solutions including biotechnology.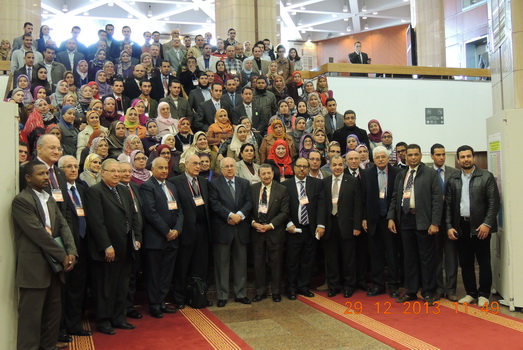 For more information about the conference, please visit: http://www.bibalex.org/cssp/Event/Event.aspx?ID=258 or contact Dr. Naglaa Abdallah at: nabdallah@e-bic.net Other additional information is available at http://templatelab.com/climatechange-WGI-AR5-SPM-brochure/
Biotech Updates is a weekly newsletter of ISAAA, a not-for-profit organization. It is distributed for free to over 22,000 subscribers worldwide to inform them about the key developments in biosciences, especially in biotechnology. Your support will help us in our mission to feed the world with knowledge. You can help by donating as little as $10.
See more articles:

News from Around the World

Research Highlights

Beyond Crop Biotech

Announcements


Read the latest:


Subscribe to BU: