Tanzanian Farmers Urge Gov't to Hasten Delivery of GE Crops
June 7, 2017
Farmers in Mwanza Province, North Eastern Tanzania have urged their government to hasten delivery of biotech crops, which they say, may save them from crop failure. The maize, cassava, and cotton farmers whose crop has been severely affected by stalk borer pests, cassava mosaic disease and African cotton bollworm respectively, said that they had applied chemical and cultural control methods against the pests and diseases with little success over the years.
Mr. Chongo Ngundamira, a farmer from Buchosa District in the area pointed high cost of inputs to control pest and disease have decreased production capacity. "We have heard that scientists are working on biotech maize, cassava and cotton that will need less spraying as the crops are self-protected against pests and diseases. We urge the government to hasten delivery of these crops as they will help us save on cost of production and eliminate crop failure," said Mr. Chongo. He added that in the current circumstances, the farmers face perennial food shortages as a result of the challenges, yet theirs is a productive land.
The farmers expressed their sentiments when journalists, scientists, and Tanzanian Government officials visited their farms during a media training in Mwanza, which was held on May 29-31, 2017. The training had been organized by Open Forum on Agricultural Biotechnology in Africa (OFAB-Tanzania), to engage journalists and scientists and enhance their cooperation in a bid to ensure accurate, fact-based and balanced agri-biotech reporting.
"We are tirelessly working to ensure that farmers get the GE pest and disease resistant crops as soon as possible, and urge the government to continue providing an enabling policy environment," assured Dr. Nicholas Nyange, a researcher at Tanzania Commission for Science, Technology and Innovation (COSTECH). Mrs. Laurancia Mulalo, a Principal Agricultural Field Officer in the area said that they were working closely with farmers to ensure harvest, despite the biotic challenges they are facing, coupled with recurring droughts.
Dr. Alois Kulaya, the Water Efficient Maize for Africa (WEMA) Tanzania Project Lead, challenged journalists to move together with scientists through development of agricultural biotechnology products to ensure proper and credible information sharing. The sentiments were echoed by Mr. Daniel Otunge, Program Manager for OFAB-Africa at African Agricultural Technology Foundation (AATF), who urged journalists to observe responsibility in biotechnology reporting even as they attempt to balance their stories.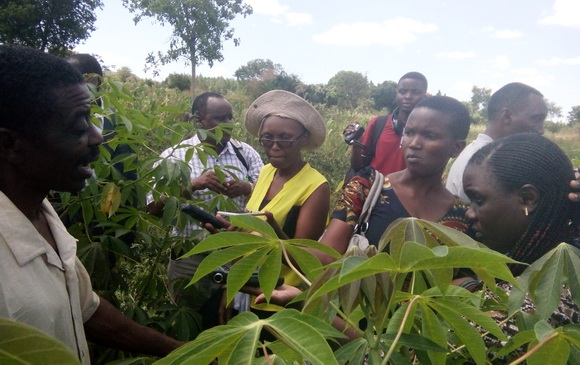 For more information, contact Philbert Nyinondi, Coordinator of OFAB-Tanzania, at nyinondi@gmail.com.
Biotech Updates is a weekly newsletter of ISAAA, a not-for-profit organization. It is distributed for free to over 22,000 subscribers worldwide to inform them about the key developments in biosciences, especially in biotechnology. Your support will help us in our mission to feed the world with knowledge. You can help by donating as little as $10.