India's National Academy of Agricultural Sciences Endorses Commercial Release of GM Mustard
June 7, 2017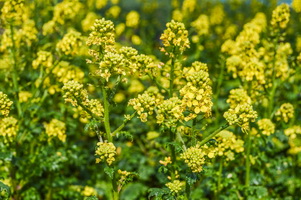 India's National Academy of Agricultural Sciences (NAAS) unanimously endorses the commercial release of genetically modified (GM) mustard (Brassica juncea) developed by the University of Delhi during its 24th Annual General Meeting held in New Delhi on June 4-5, 2017. The academy, a body comprising of leading agricultural scientists, submitted a resolution on GM mustard to the Prime Minister of India seeking his intervention to hasten the approval process for GM mustard so that farmers can grow it in the forthcoming Rabi 2017 season. GM mustard technology and Dhara Mustard Hybrid (DMH-11) are the first barnase-barstar based hybrid that yields 20-30% more than existing varieties, allows the breeders to develop better mustard hybrids in the future, and would allow farmers to access the variety at low cost.
GM mustard technology is developed by public sector scientists through funding from National Dairy Development Board (NDDB) and Department of Biotechnology (DBT) of the Government of India.
More information about the academy's resolution on GM mustard available at the NAAS website.
Biotech Updates is a weekly newsletter of ISAAA, a not-for-profit organization. It is distributed for free to over 22,000 subscribers worldwide to inform them about the key developments in biosciences, especially in biotechnology. Your support will help us in our mission to feed the world with knowledge. You can help by donating as little as $10.