Report Shows 20 Years of Economic and Environmental Benefits from Biotech/GM Crops
June 7, 2017
Crop biotechnology has significantly reduced agriculture's environmental impact and stimulated economic growth over the last 20 years of use, according to the new report of PG Economics. The peer-reviewed report GM Crops: Global Socio-economic and Environmental impacts 1996-2015 authored by Graham Brookes and Peter Barfoot also presents the contribution of biotechnology in preserving the earth's natural resources while allowing farmers to grow more, high quality crops.
The report highlights that crop biotechnology has shown the following benefits:
decreased agriculture's greenhouse gas emissions by using HT crops and reduced tillage, equivalent to removing 11.9 million cars off the road
reduced crop protection spraying by 619 million kg
contributed to food security and reduced pressure to use additional land to maintain production (additional land would be equivalent to 11% arable land in the US or 31% of arable land in Brazil or 13% of cropping area in China)
enabled farmers to have improved crop yields, leading to additional 180.3 million tonnes of soybeans, 357.7 million tonnes of corn, 25.2 million tonnes of cotton lint, and 10.6 million tonnes of canola
supported livelihoods of smallholder farmers in developing countries, reaching a net farm level economic of $15.5 billion in 2015 alone
helped in attaining global economic success, with farmers in developing countries gaining $5.15 for each dollar invested in biotech crop seeds.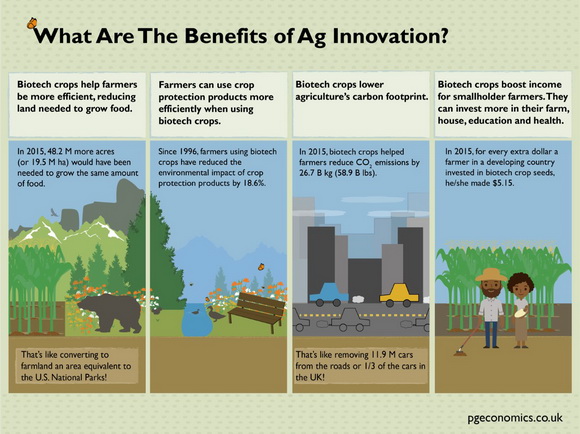 Download a copy of the report and read the press release for more details.
Biotech Updates is a weekly newsletter of ISAAA, a not-for-profit organization. It is distributed for free to over 22,000 subscribers worldwide to inform them about the key developments in biosciences, especially in biotechnology. Your support will help us in our mission to feed the world with knowledge. You can help by donating as little as $10.