Uganda MP Wants Constituents to be First Beneficiaries of GM Crops
February 1, 2017
Hon. Jackson Mbaju- Member of Parliament (MP) representing the people of Busongoro South in Kasese district, has urged researchers to ensure that the people of Kasese district are the first beneficiaries of genetically modified (GM) maize that can withstand drought and resist the pesky pest known as stem borer. Hon Mbaju revealed this during a tour of the confined field trial for stem borer resistant GM maize at Mobuku in Kasese district. Cognizant of the location of the maize confined field trial in Kasese district, Hon. Mbaju pledged to support the passing of the Biotechnology and Biosafety Bill to fast-track farmers' access to GM improved crops with various benefits. However, he called for increased biotech sensitization of MPs to empower them to debate ably on the National Biotech and Biosafety Bill that will soon be tabled in Parliament. Hon. Mbaju noted that the law would protect our environment and Ugandans, while facilitating research innovations by Ugandan breeders.
The tour, held on January 28, 2017, was organized by Uganda Biosciences Information Center in collaboration with Science Foundation for Livelihoods and Development (SCIFODE) for journalists, and MPs representing Kasese region in Parliament. Hon. Mbaju noted that Kasese district could face colossal hunger in the coming months if the Government did not intervene because farmers lost a substantial proportion of their maize output due to prolonged drought periods in the past two years. " We need to welcome such projects that can give us drought tolerant crops and crops that are resistant to pests in order to ensure food security for our communities," he said.
Henry Lutaaya, a senior reporter at Sunrise which is one of the popular newspapers, appealed to UBIC to conduct continuous training sessions to teach and appraise journalists on the on-going biotech research. He said that such trainings will help to create a greater critical mass of reporters with competence to report on the science of genetic engineering and to help increase public awareness on the subject.
UBIC's Media and Public Relations Officer, Anita Tibasaaga, highlighted UBIC's commitment to spearhead strengthening media skills in biotech reporting. In 2017, therefore, UBIC plans to enhance their engagements with media to increase public awareness about biotech and GMOs.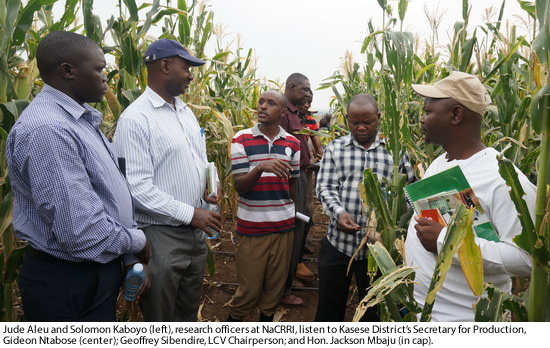 For more information, send an e-mail to ubic.nacrri@gmail.com.
Biotech Updates is a weekly newsletter of ISAAA, a not-for-profit organization. It is distributed for free to over 22,000 subscribers worldwide to inform them about the key developments in biosciences, especially in biotechnology. Your support will help us in our mission to feed the world with knowledge. You can help by donating as little as $10.
See more articles:

News from Around the World

Research Highlights

Beyond Crop Biotech

Announcements

Resources

Plant


Read the latest:


Subscribe to BU: