AATF Establishes First Early Generation Seed Production Entity in Sub-Saharan Africa
February 1, 2017
The African Agricultural Technology Foundation (AATF) has established the first early generation seed production entity in Sub-Saharan Africa (SSA) to effectively and efficiently supply high quality foundation seed for small and medium enterprise (SME) seed companies on the continent. The establishment, announced on January 30, 2017 by AATF's Executive Director Dr. Denis Kyetere, will be known as QualiBasic Seed. It will be based in Nairobi, Kenya, and has received an initial five year investment of US$ 8.4 Million from the Bill & Melinda Gates Foundation.
QualiBasic was established to address technical, infrastructural, and financial challenges that seed companies face in maintenance, multiplication, and timely supply of quality foundation seed. Overcoming these challenges is essential to improving farm productivity by small holder farmers. This is because low access and use of poor quality foundation seed by seed companies result to low crop yields and crop failure, in some cases, for small holder farmers. This affects sustainable food production and costs the continent a valuable development opportunity.
"Huge investments have been made by donors through various global public crop improvement programs for the benefit of African farmers. These breeding programs have released high yielding and very adaptable crop varieties, for example, maize hybrids, that offer high productivity opportunities. However, the benefits of these products are yet to be realized by smallholder farmers due to delayed seed production in some cases and low quality seed in others," said Enock Chikava, Deputy Director Agricultural Development at the Bill & Melinda Gates Foundation
Under the partnership, AATF will help establish and nurture QualiBasic into a professional fully-fledged, independent and sustainable private sector driven business within five years. QualiBasic operations will start with foundation seed for maize in East and Southern Africa then grow to serve other cereals and legumes across SSA when fully functional. Three foundation seed production hubs with seed processing and storage facilities will be established in Kenya, Zambia and South Africa by the second and third year of operations, in order to meet demand for products in a timely manner, and avoid lengthy delays in seed movements.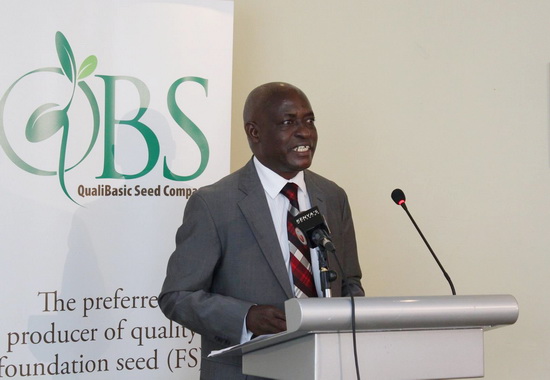 For more information, contact Nancy Juma on n.juma@aatf-africa.org
Biotech Updates is a weekly newsletter of ISAAA, a not-for-profit organization. It is distributed for free to over 22,000 subscribers worldwide to inform them about the key developments in biosciences, especially in biotechnology. Your support will help us in our mission to feed the world with knowledge. You can help by donating as little as $10.
See more articles:

News from Around the World

Research Highlights

Beyond Crop Biotech

Announcements

Resources

Plant


Read the latest:


Subscribe to BU: