Major Vernalization Gene in Wheat Identified
September 9, 2015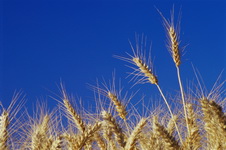 A study by the National Academy of Science, authored by geneticists from universities including Kansas State University, identified the fourth and final vernalization
gene
in
wheat
. These vernalization genes sense low climatic temperatures and determine when the wheat begins to flower. The other three vernalization genes had been identified in previous studies by Jorge Dubcovsky of the University of California Davis. The discovery of all four genes implies new methods of designing wheat varieties that can adapt to different environments.
The study analyzed wheat lines found in Pakistan and India, where the discovered gene VRN-D4 is most abundant. It is likely that ancient farmers in the region preferred wheat varieties with this characteristic because of its adaptability in
changing climate
conditions.
Biotech Updates is a weekly newsletter of ISAAA, a not-for-profit organization. It is distributed for free to over 22,000 subscribers worldwide to inform them about the key developments in biosciences, especially in biotechnology. Your support will help us in our mission to feed the world with knowledge. You can help by donating as little as $10.