Kenyan Farmers Visit South African GM Crops Fields
May 6, 2015
More than thirty stakeholders from Kenya, mainly farmers, participated in a one week study tour to South Africa from April 19-23, 2015. The objective of the visit is to showcase to the Kenyan farmers how farmers in South Africa have adopted useful technologies that address their challenges.
The participants visited 5 farms, including Ephraim Mogale's municipality in Limpopo Province and Boekenhoutskloof in Gauteng Province. They held discussions with farmers, government officials, biosafety officers, and technology developers. From these engagements, it emerged that adoption of GM crops in South Africa was farmer driven.
"We were fed up with weeding and spraying pesticides to control bollworms and weeds. When the technology was introduced, we rapidly picked it up," said Frans Mallela, one of the large-scale farmers in Limpopo Province. According to Mr. Mallela, since he started growing GM cotton, he recorded an increase in yields, from 4 hectares to 150 hectares. He has moved from GM cotton with a single trait to stacked traits (insect resistance and herbicide tolerance). "Cotton with the two traits does not require a big land for refugia. This helps me to maximize on yields," said Mallela. "When I first went into farming, as a part time job, I used to plant conventional maize and the harvest never went beyond one tonne per hectare. Now with biotechnology, I get up to 7 tonnes per hectare if the rain is good," Mr. Mallela added.
The participants were impressed with the way South African farmers are enthusiastic about the benefits of GM crops. "Some of us have heard negative stories about the GM technology. We are going to urge our own government to avail this technology to Kenyan farmers because we have similar circumstances with South African farmers" said Mr. Titus Ndalemia, a farmer from Machakos, Eastern Kenya.
The study tour was organized by AfricaBio in partnership with the African Agricultural Technology Foundation and ISAAA AfriCenter.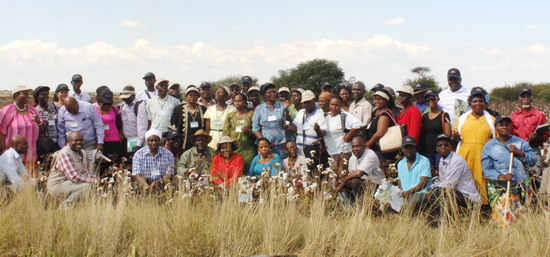 For more information, contact Daniel Otunge at d.otunge@aatf-africa.org.
The Crop Biotech Update is a weekly newsletter of ISAAA, a not-for-profit organization. The CBU is distributed for free to over 23,000 subscribers worldwide to inform them about the key developments in biosciences, especially in agricultural biotechnology. Your support will help us in our mission to feed the world with knowledge. You can help by donating as little as $10.
See more articles:

News from Around the World

Research Highlights

Beyond Crop Biotech

From the BICs


Read the latest:


Subscribe to CBU: