Biotech sQuizBox (Not Just for Kids)
August 22, 2013
ISAAA releases the new version of Biotech sQuizBox (Not Just for Kids), an activity booklet on biotechnology. The publication is designed to inform the public on biotech through trivia and puzzles in cartoons. It also provides URLs and QR codes directing to more biotech information online.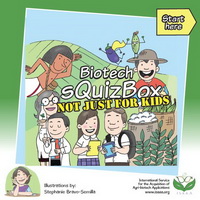 Download a copy now at http://www.isaaa.org/resources/publications/biotech_squizbox/2013/download/default.asp.
Biotech Updates is a weekly newsletter of ISAAA, a not-for-profit organization. It is distributed for free to over 22,000 subscribers worldwide to inform them about the key developments in biosciences, especially in biotechnology. Your support will help us in our mission to feed the world with knowledge. You can help by donating as little as $10.