Genome Editing Offers Great Prospects for South Africa
March 20, 2019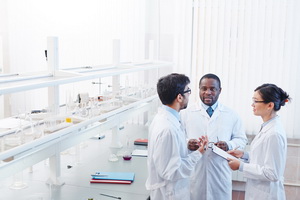 South Africa stands to hugely benefit from genome editing and other modern biotechnologies when products thereof are developed and used within a framework that ensures their sustainability. This was an affirmation coming out from the second National Biosafety Symposium, organized by Biosafety South Africa in Pretoria on March 14, 2019.
Addressing ethical, legal and social implications of human genetics research and innovation, Prof. Michael Pepper from University of Pretoria called for inclusion of practical interventions in genome editing in the country. Echoing recommendations from a recent study commissioned by the country's Academy of Science, he recommended that biotech innovations should be incorporated in school curricula to improve public understanding. He also asked for refining of consent models for patients to ensure responsible use of genetic technologies.
At the Symposium, South Africa's Department of Health's Food Control Unit revealed their new findings that residue levels of GMO-associated herbicides in maize products are mostly undetectable and even when detectable, they are more than two orders of magnitude below the national maximum allowable residue levels.
The participants also discussed and acknowledged the regulatory and acceptance challenges faced by entrepreneurs involved with genome editing and other modern biotechnology tools. Leah Bessa, co-founder of the start-up biotech company Gourmet Grubb, which is developing insect-based foods, appealed to regulators to develop formal consultation opportunities for start-up companies. The Symposium was concerned that inadequate technical and financial support are among factors that can derail progress in the region. The stakeholders called for a policy environment conducive to sustainable innovation and observed that a multi-disciplinary approach to biotech innovation is critical to ensure success and sustainable growth in the country's biotech sector.
For more details, contact Biosafety South Africa Executive Manager Dr. Hennie Groenewald on hennie@biosafety.org.za.
Biotech Updates is a weekly newsletter of ISAAA, a not-for-profit organization. It is distributed for free to over 22,000 subscribers worldwide to inform them about the key developments in biosciences, especially in biotechnology. Your support will help us in our mission to feed the world with knowledge. You can help by donating as little as $10.
See more articles:

News from Around the World

Research Highlights

Beyond Crop Biotech

Resources

Plant


Read the latest:


Subscribe to BU: