Global Biotech Crop Adoption Report Launched in Bogor, Indonesia
August 29, 2018
The ISAAA report titled Global Status of Commercialized Biotech/GM Crop: 2017 was launched in Bogor, Indonesia on August 20, 2018. The event was organized by ISAAA, the Indonesian Biotechnology Information Centre (IndoBIC), and the Ministry of Agriculture. It was attended by 80 government and private sector representatives and media practitioners.
Dr. Paul Teng, ISAAA Board Chairman presented the highlights of the report and Dr. Rhodora R. Aldemita from ISAAA Global Knowledge Center gave an overview of biotech/GM crop adoption in Asia. Dr. Muhammad Herman also discussed the status of biotechnology in Indonesia, while Dr. Parulian Hutagaol of Bogor Agricultural University presented the socio-economic impact of biotech crops.
The ISAAA report was also presented to over 200 members of the national and international academe, government representatives, and students during a two-day International Conference on Genetic Resources and Biotechnology (ICGRB) held on August 20-21, 2018. The event was organized by Indonesian Agency for Agricultural Research and Development (IAARD) of the Ministry of Agriculture. This conference discussed ideas, experiences, and research results related to plant genetic resources, in particular on access and benefit sharing; information system and database management of plant genetic resources; application of new techniques for crop improvement such as the use of genomic sequences, genome editing, and synthetic biology; bio-prospecting and economic valuation of genetic resources; traditional knowledge associated with genetic resources; and sustainable gene bank management and in situ conservation.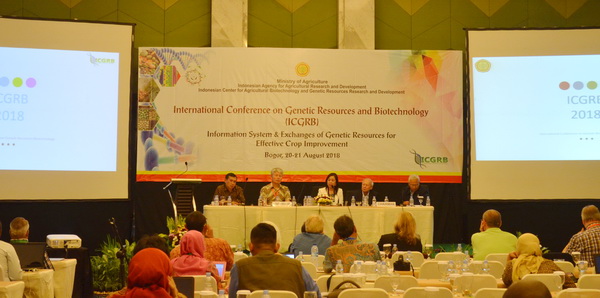 For more information about biotechnology in Indonesia, visit the IndoBIC website.
Biotech Updates is a weekly newsletter of ISAAA, a not-for-profit organization. It is distributed for free to over 22,000 subscribers worldwide to inform them about the key developments in biosciences, especially in biotechnology. Your support will help us in our mission to feed the world with knowledge. You can help by donating as little as $10.