CRISPR Gene-Editing Technology, Better with Cas12a
August 8, 2018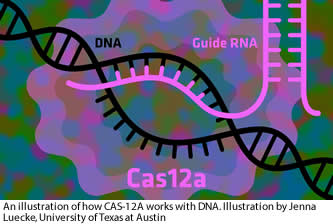 Cas9 is the first enzyme used in the CRISPR gene-editing technology. As if the tool could not get any better, researchers from The University of Texas at Austin found that Cas12a, which is more popularly known as Cpf1, is more precise in targeting genes for modification than Cas9.
Through quantitative kinetics, the team determined the specific gene-targeting mechanism of CRISPR-Cas12a. Results showed that Cas12a works like a "velcro" in the system, whereas Cas9 works like a "super glue." Thus, reversibility is possible with Cas12a, consequently reducing off-targets.
For more information, read the articles in UT News and Molecular Cell.
Biotech Updates is a weekly newsletter of ISAAA, a not-for-profit organization. It is distributed for free to over 22,000 subscribers worldwide to inform them about the key developments in biosciences, especially in biotechnology. Your support will help us in our mission to feed the world with knowledge. You can help by donating as little as $10.