Scientists Narrate Past, Present, and Future of the Bt Eggplant Project in Bangladesh
August 8, 2018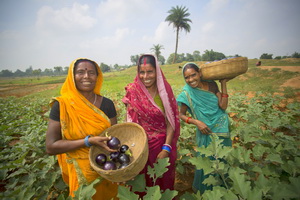 Since the approval of Bt eggplant for "limited cultivation" in Bangladesh in 2013, ~17% of the total brinjal farmers in the country are already benefiting from the technology. Scientists concisely report the history, present status, and future direction of the Bt eggplant project in Bangladesh in a perspective article in Frontiers in Bioengineering and Biotechnology.
The highlights of the report include the creation, approval process, adoption, performance, economic effects, and sustenance of the technology. Comments on the future direction of the technology are summarized and include the following:
Enhancing partnership between Bangladesh Agricultural Research Institute and Bangladesh Agricultural Development Corporation.
Increasing seed production by providing farmers with appropriate information about the technology and its agronomic and stewardship requirements.
Information dissemination through extension materials and field staff trainings.
Partnerships with the private sector.
Ensuring the sustainability of Bt brinjal by producing a comprehensive work plan, involving roles and responsibilities of different stakeholders.
The research team believes that Bt brinjal is important in the future of other genetically engineered crops in Bangladesh.
For more information, read the article in Frontiers in Bioengineering and Biotechnology.
The Crop Biotech Update is a weekly newsletter of ISAAA, a not-for-profit organization. The CBU is distributed for free to over 23,000 subscribers worldwide to inform them about the key developments in biosciences, especially in agricultural biotechnology. Your support will help us in our mission to feed the world with knowledge. You can help by donating as little as $10.