Rice with Triple-stack Traits Shows Better Yields Amidst Abiotic Stresses
May 9, 2018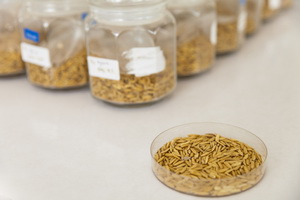 Field trials of multiple rice lines carrying the nitrogen use efficiency (NUE), water use efficiency, and salinity tolerance traits show significant increase in yields by up to 50 percent compared to control under various abiotic stresses. The rice lines with triple-stack trait was developed by Arcadia Biosciences and the field trials were conducted by experts from the International Center for Tropical Agriculture (CIAT) under the Nitrogen-Use Efficient, Water-Use Efficient and Salt-Tolerant Rice (NEWEST) project, coordinated by the African Agricultural Technology Foundation, and sponsored by the Feed the Future initiative of USAID.
Under limiting nitrogen applications, the triple-stack rice lines outperformed the control by an average of 25%, with the lead line yielding up to 33% more. The same lines produced an average of 40% more than controls under limiting nitrogen and drought conditions in the field, with the lead line producing 50% more yield.
Based on the previous field trials conducted in California by Arcadia, triple-stacking the traits in rice has the potential to contribute towards food security. The latest data from the field trials conducted by CIAT shows that there may be synergistic effects between traits that protect crops against abiotic stresses.
For more details, read the news release from Arcadia.
The Crop Biotech Update is a weekly newsletter of ISAAA, a not-for-profit organization. The CBU is distributed for free to over 23,000 subscribers worldwide to inform them about the key developments in biosciences, especially in agricultural biotechnology. Your support will help us in our mission to feed the world with knowledge. You can help by donating as little as $10.
See more articles:

News from Around the World

Research Highlights

Plant Breeding Innovations

Beyond Crop Biotech

Announcements


Read the latest:


Subscribe to CBU: