Biotech Experts Push Forward Bill on Modern Biotech in PH
May 9, 2018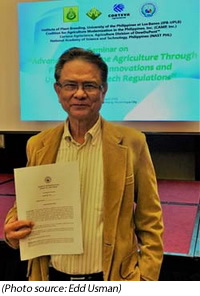 Biotech experts in the Philippines aim to advance modern biotechnology in the country to help reduce hunger and poverty, mitigate the effects of climate change, among other benefits. With this objective, a draft bill titled "An Act to Support Modern Biotechnology for Sustainable Rural Development in the Republic of the Philippines and Appropriating Funds Thereof" is being developed by the Coalition of Agriculture Modernization in the Philippines (CAMP), together with other like-minded organizations.
On April 25, 2018, the draft bill was discussed in a seminar on plant breeding innovations organized by the National Academy of Science and Technology (NAST) in Manila.
CAMP president, Dr. Benigno Peczon, said that the contents of the proposed draft bill include the establishment of a body called Biotechnology Authority of the Philippines, which will lead the modern biotechnology initiatives in the country. The draft bill is scheduled to be transmitted to the House of Representatives in May 2018.
"We have to pass this soon because the poverty in this country is a big problem, and we are falling behind our neighboring countries. This is such a useful technology, but we are tying up ourselves because of that Supreme Court ruling. Our regulatory process is way too slow," stressed Dr. Peczon.
Officials of the International Service for the Acquisition of Agri-biotech Applications expressed their support for the draft bill. "So, it is one package that provides development boost and, at the same time, carries the cautionary requirement that it supports a safe and responsible use of technology," said Dr. Randy Hautea, Global Coordinator of ISAAA. Dr. Rhodora Aldemita, Director of ISAAA Global Knowledge Center on Crop Biotechnology said that the draft bill would promote research and development (R&D) on biotechnology, give incentives to scientists and educate scientists, especially on agri-biotechnology.
For more information, read the original article from Business Mirror.
The Crop Biotech Update is a weekly newsletter of ISAAA, a not-for-profit organization. The CBU is distributed for free to over 23,000 subscribers worldwide to inform them about the key developments in biosciences, especially in agricultural biotechnology. Your support will help us in our mission to feed the world with knowledge. You can help by donating as little as $10.
See more articles:

News from Around the World

Research Highlights

Plant Breeding Innovations

Beyond Crop Biotech

Announcements


Read the latest:


Subscribe to CBU: