Lignin Reduction Observed in CRISPR-Edited Switchgrass
December 13, 2017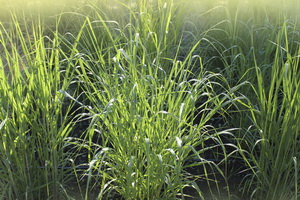 Lignin, a major component of the plant cell wall, stands as a barrier to efficient biofuel production from switchgrass (Panicum virgatum). While the advent of genome editing technologies offers new opportunities for improving switchgrass, its allotetraploidy (2n = 4x =36) may make it difficult to engineer.
The team of Jong-Jin Park of Oak Ridge National Laboratory developed a CRISPR-Cas9 genome editing system in switchgrass to target 4-Coumarate:coenzyme A ligase (4CL), a key enzyme involved in the early steps of the synthesis of monolignol, a component of lignin. Among the three 4CL genes identified in switchgrass, the Pv4CL1 transcripts were the most abundant.
Pv4CL1 was then selected as the target for CRISPR-Cas9 editing and a guide RNA was constructed to target it. Among the 39 genome-edited plants were generated, four plants were confirmed to have tetra-allelic mutations simultaneously. The Pv4CL1 knock-out plants had reduced cell wall thickness, a significant reduction in total lignin content, an increase in glucose release as well as an increase in xylose release.
This study established a success of CRISPR-Cas9 system in switchgrass. The system will be useful for decreasing the lignin content of lignocellulosic feedstock.
For more on this study, read the article in BMC Plant Biology.
Biotech Updates is a weekly newsletter of ISAAA, a not-for-profit organization. It is distributed for free to over 22,000 subscribers worldwide to inform them about the key developments in biosciences, especially in biotechnology. Your support will help us in our mission to feed the world with knowledge. You can help by donating as little as $10.
See more articles:

News from Around the World

Research Highlights

Beyond Crop Biotech

Resources

Plant


Read the latest:


Subscribe to BU: