Plant Biologist Wins the 2018 Breakthrough Prize in Life Sciences
December 6, 2017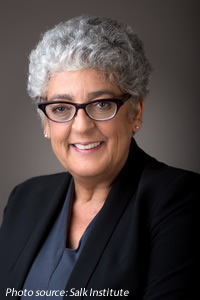 Salk Insitute for Biological Sciences scientist, Joanne Chory, one of the world-renowned plant biologists, has been awarded a 2018 Breakthrough Prize in Life Sciences because of her pioneering work in discovering how plants optimize their growth, development, and cellular structure to transform sunlight into chemical energy.
Chory received the award and the US$3 million cash prize, on December 3, 2017 at the NASA Ames Research Center in California. The prestigious award, which was founded in 2013 by Silicon Valley luminaries Sergey Brin and Anne Wojcicki, Mark Zuckerberg and Priscilla Chan, and Yuri and Julia Milner, honors top achievements in life sciences, physics, and mathematics.
"I'm truly honored to receive this award, humbled to be in such distinguished company and tremendously gratified that the study of plants, which is essential to developing everything from better agricultural practices to mitigating global warming, has been put in the spotlight with this award," said Chory.
Read more from Salk Institute's news release.
Biotech Updates is a weekly newsletter of ISAAA, a not-for-profit organization. It is distributed for free to over 22,000 subscribers worldwide to inform them about the key developments in biosciences, especially in biotechnology. Your support will help us in our mission to feed the world with knowledge. You can help by donating as little as $10.