African Agri Researchers Trained on Science Communication
December 6, 2017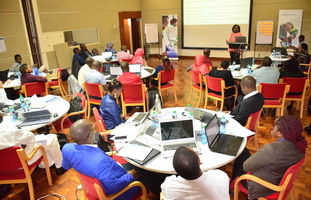 There is a strong need for scientists to learn how to simplify their messages for a non-scientific audience. This was a key takeaway from a two-week science communication training workshop organized by Biosciences Eastern and Central Africa (BecA-ILRI) Hub in collaboration with ISAAA AfriCenter and the International Foundation for Science (IFS) at the International Livestock Research Institute (ILRI) campus in Nairobi. The workshop comprised of two modules: with the first (November 27-30, 2017) attended by 25 participants, while the second, comprised of 28 participants, is currently underway. The training seeks to strengthen the capacity of African National Agricultural Research Systems (NARS) to drive agricultural research and innovation in Africa and for Africa.
ISAAA AfriCenter Director, Dr. Margaret Karembu, guided the group through rules of effective communication and the importance of planning their messages, building trust with stakeholders, and communicating the key message within the shortest time possible. Dr. Karembu noted that a non-scientific audience is more interested in knowing the impact of the research on them as opposed to the process of the research emphasizing that researchers need to prioritize on strategic ways to communicate their findings. "There is a difference between giving out information and getting through to your audience, differentiate between information sharing and communication," she said.
Senior Scientist and Head of Africa Biosciences Challenge Fund, Dr. Wellington Ekaya, acknowledged that effective communication is key in translating research findings into impact in society. "Without communication, the innovations resulting from scientific research remains closed up in our laboratories when they should be transforming our agricultural systems," he said.
The scientists acknowledged the importance of engaging with mass media alongside social media as an avenue to disseminate scientific information to the public. Participants were taken through mock media interviews where they were tasked to pass a key message for a non-scientific audience using the principles and techniques learned during the training. The importance of developing relationships with journalists was identified as a crucial media engagement strategy.
For information, contact Dr. Margaret Karembu at mkarembu@isaaa.org.
Biotech Updates is a weekly newsletter of ISAAA, a not-for-profit organization. It is distributed for free to over 22,000 subscribers worldwide to inform them about the key developments in biosciences, especially in biotechnology. Your support will help us in our mission to feed the world with knowledge. You can help by donating as little as $10.