Broad Virus Resistance in Cucumber Developed using CRISPR
August 24, 2016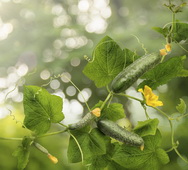 Genome editing in plants has advanced due to the development of CRISPR/Cas9 technology. Jeyabharathy Chandrasekaran, together with other researchers from the Volcani Center in Israel, present the development of virus resistance in cucumber (Cucumis sativus L.) using Cas9/subgenomic RNA (sgRNA) technology to disrupt the function of the recessive eIF4E gene.
Cas9/sgRNA constructs were designed to target the N′ and C′ termini of the eIF4E gene. Small deletions and single nucleotide polymorphisms (SNPs) were observed in the eIF4E gene targeted sites of transformed T1 cucumber plants. Non-transgenic heterozygous eif4e mutant plants were then selected for the production of non-transgenic homozygous T3 generation plants.
Following Cas9/sgRNA that had been targeted to both eif4e sites, homozygous T3 exhibited immunity to Cucumber vein yellowing virus (Ipomovirus) infection and resistance to the potyviruses Zucchini yellow mosaic virus (ZMV) and Papaya ring spot mosaic virus-W (PRSV). In contrast, heterozygous mutant and non-mutant plants were highly susceptible to these viruses.
This study marks the first time that virus resistance was developed in cucumber, non-transgenically, via the Crispr/Cas9 technology. This approach can also be applied to several crops.
For more on this study, read the full article in Molecular Plant Pathology.
Biotech Updates is a weekly newsletter of ISAAA, a not-for-profit organization. It is distributed for free to over 22,000 subscribers worldwide to inform them about the key developments in biosciences, especially in biotechnology. Your support will help us in our mission to feed the world with knowledge. You can help by donating as little as $10.