African Countries Strive to Meet Int'l Biosafety Obligations
August 24, 2016
Parliamentarians and representatives from biosafety authorities gathered for the 5th Annual Biosafety Conference held on August 15-18, 2016 in Nairobi, Kenya. The theme of the conference was "Strengthening global, regional, national collaboration, partnerships and capacity towards meeting international obligations in Biosafety."
During the opening ceremony, Kenyan Cabinet Secretary for Ministry of Agriculture, Livestock and Fisheries, Hon. Willy Bett, highlighted the government's commitment to utilize modern technologies in crop production, saying that this was the only way to increase food production. Hon. Bett called on biosafety and biotechnology stakeholders to engage the public to ensure wide acceptance of GM crops. The Director of Center for Environment Risk Assessment at International Life Sciences Institute, Dr. Andrew Roberts, gave the keynote address on data transportability, a new concept, which if implemented will reduce the need to have confined field trials for crops whose proof of concept, safety and agronomic data exists in other countries.
Dr. Faith Nguthi of ISAAA AfriCenter made a presentation on socio economic considerations in biosafety decision-making. She encouraged African party states to participate in international biosafety discussions and negotiations to ensure Africa's unique challenges are factored in decision-making.
Participants included Members of Parliament of Kenyan and Ugandan parliaments, Chief Executive Officers of biosafety authorities from 8 African countries, representatives from African Biosafety Network of Expertise, USAID representatives, Kenya Agricultural Research Organization and Kenyan university scientists, and biotechnology students among others.
In his closing remarks the Principal Secretary Dr. Richard Lesiyampe of Agriculture, Livestock and Fisheries echoed the Cabinet Secretary's call for public engagement. "If we cannot cause a revolution at the top, we must cause a revolution at the bottom", said Dr. Lesiyampe emphasizing the importance of sensitizing farmers on the benefits of biotech crops at the grassroots.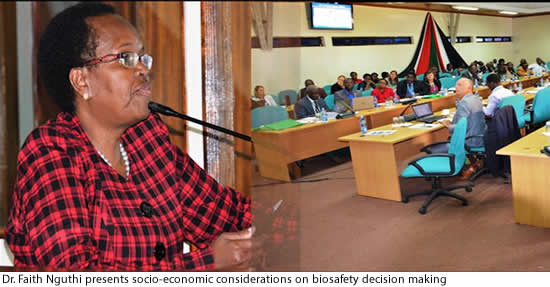 For more details, send an e-mail to Dr. Margaret Karembu at mkarembu@isaaa.org.
Biotech Updates is a weekly newsletter of ISAAA, a not-for-profit organization. It is distributed for free to over 22,000 subscribers worldwide to inform them about the key developments in biosciences, especially in biotechnology. Your support will help us in our mission to feed the world with knowledge. You can help by donating as little as $10.