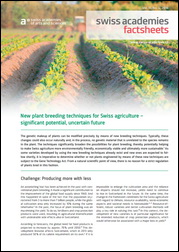 The Swiss Academies of Sciences released a new fact sheet on New Breeding Technologies for Swiss Agriculture - Significant Potential, Uncertain Future. According to the Swiss Academies, there is no reason for a strict regulation of plants bred through new plant breeding techniques. This conclusion is similar to the statements of other scientific academies.
African Countries Strive to Meet Int'l Biosafety Obligations
Parliamentarians and representatives from biosafety authorities gathered for the 5th Annual Biosafety Conference held on August 15-18, 2016 in Nairobi, Kenya. The theme of the conference was "Strengthening global, regional, national collaboration, partnerships and capacity towards meeting international obligations in Biosafety."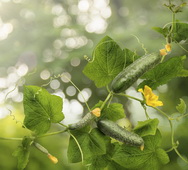 Genome editing in plants has advanced due to the development of CRISPR/Cas9 technology. Jeyabharathy Chandrasekaran, together with other researchers from the Volcani Center in Israel, present the development of virus resistance in cucumber (Cucumis sativus L.) using Cas9/subgenomic RNA (sgRNA) technology to disrupt the function of the recessive eIF4E gene.

A biweekly update on gene editing research, regulations, and impact
produced by ISAAA Inc.

A monthly update on gene drive research and development provided by ISAAA in collaboration with the Outreach Network for Gene Drive Research
Biotech Updates is a weekly newsletter of ISAAA, a not-for-profit organization. It is distributed for free to over 22,000 subscribers worldwide to inform them about the key developments in biosciences, especially in biotechnology. Your support will help us in our mission to feed the world with knowledge. You can help by donating as little as $10.