Jordan Hosts Workshop on Plant Biotechnology and Biodiversity
August 17, 2016
The 7th Annual International Arab Workshop on Biotechnology: Plant Biotechnology & Biodiversity was held on August 1-2, 2106 at Amman, Jordan. The workshop was organized by the Egyptian Academy of Science Research and Technology, Egypt (ASRT), the National Center for Research and Development, the Higher Council for Science and Technology in Jordan and Arab Biotechnology Association, and the Federation of Arab Scientific Research Councils (FASRC). More than 70 participants attended the workshop from different Arab countries including Egypt, Sudan, Kuwait, Tunisia, and Jordan.
At the opening ceremony, Prof. Mahmoud Sakr, President of Academy of Science Research and Technology, Egypt (ASRT) talked about the importance of the Arab collaboration in the scientific fields, especially in the field of biotechnology. He also added that Egypt started a national project for documentation of plant resources using DNA barcoding techniques. Prof. Mubarek Al-Magzoub of FASRC, Sudan emphasized that the Federation is dedicated to coordinate efforts and exchange of scientific information among nations. The workshop included 40 presentations, in addition to the posters.
The two-day workshop covered the following topics: conservation of plant genetic resources and genetic diversity, phenotyping, genotyping for genomics applications, plant cell and tissue culture, plant transformation and biotechnology of medicinal plants. Prof. Naglaa Abdallah, Director of EBIC gave a presentation entitled Next- generation genome engineering: Geminivirus as vectors for precise plant genome engineering. She also presented the global status of biotech crops in 2015 and the use of CRISPR as one of the new breeding techniques. "Targeted genome editing is one of the new breeding techniques (NBT) that has the potential to accelerate genome modification in a precise and predictable manner...CRISPR has many advantages in terms of price, regulation, speed, accuracy, specificity, and simplicity. In addition, it could function in all domains of life and could be used in genetic therapy and personalized medicine," said Dr. Abdallah.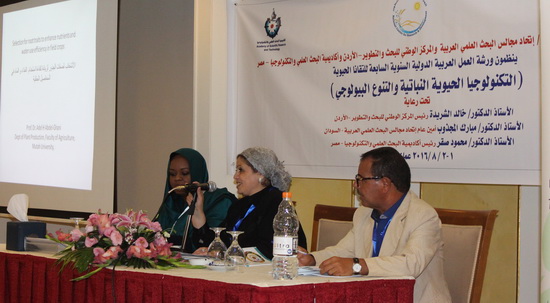 For more information, contact Prof. Naglaa Abdallah at Naglaa.abdallah@agr.cu.edu.eg.
Biotech Updates is a weekly newsletter of ISAAA, a not-for-profit organization. It is distributed for free to over 22,000 subscribers worldwide to inform them about the key developments in biosciences, especially in biotechnology. Your support will help us in our mission to feed the world with knowledge. You can help by donating as little as $10.
See more articles:

News from Around the World

Research Highlights

Beyond Crop Biotech

From the BICs

Resources

Plant


Read the latest:


Subscribe to BU: