The Royal Society Releases Guide on GM Plants
May 25, 2016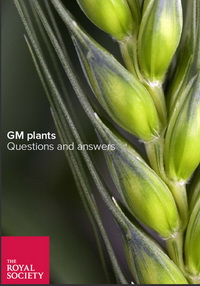 The Royal Society has drawn a panel of scientific experts and came up with a guide titled
Genetically Modified (GM) Plants: Questions and Answers.
The guide addresses 18 important questions asked by the general public about
GM crops
, based on the results of a survey. These questions include:
"The answers draw on a wide range of evidence and give some specific examples. In general, it is important to recognise that when the GM method is used, the crops produced should be assessed on a case by case basis. GM is a method, not a product in itself. Different GM crops have different characteristics and it is impossible, from a scientific point of view, to make a blanket statement that all GM is good or bad," said Venki Ramakrishnan, President of the Royal Society.
Download a copy of the guide from The Royal Society.
Biotech Updates is a weekly newsletter of ISAAA, a not-for-profit organization. It is distributed for free to over 22,000 subscribers worldwide to inform them about the key developments in biosciences, especially in biotechnology. Your support will help us in our mission to feed the world with knowledge. You can help by donating as little as $10.