Philippine American Academy of Science and Engineering Calls for Resumption of Bt Eggplant Research
May 25, 2016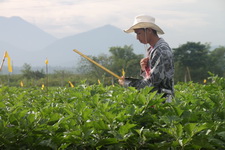 In a statement, the Philippine American Academy of Science and Engineering (PAASE) expressed strong support for the continuation of research and development and field testing of Bt eggplant in the Philippines, following the Supreme Court order halting its field testing last December 2015. Under the new biosafety guidelines of the Philippines signed by five government departments (Joint Department Circular No. 1, Series of 2016, titled Rules and Regulations for the Research and Development, Handling and Use, Transboundary Movement, Release into the Environment, and Management of Genetically-Modified Plant and Plant Products Derived from the Use of Modern Biotechnology), PAASE urged "all parties involved to take prompt and responsible actions…to implement the resumption and continuation of said research."
Elaborating Bt eggplant and GM technology's human, animal and environmental safety, and its potential contribution to food security in its 22-page statement, PAASE urged various stakeholders to mobilize Filipino S&T and partner with eggplant farmers "to build scientific and technological capacity best suited to their circumstances." They also committed to "working with the Philippine government, universities and the public in providing expert advice and recommendations on the various facets of the development and use of Bt talong in the Philippines."
PAASE is an international organization of scientists and engineers who have distinguished themselves in scholarly and research-related activities and who are of Philippine descent -- based in the Philippines, the United States or elsewhere. The academy promotes the advancement of science, engineering and technology; encourages collaborative efforts among scientists and engineers; and supports national inclusive growth and development through innovation in science and technology. A full copy of their statement can be downloaded here.
For more information about biotech developments in the Philippines, visit the website of the Southeast Asian Regional Center for Graduate Study and Research in Agriculture – Biotechnology Information Center (SEARCA BIC).
Biotech Updates is a weekly newsletter of ISAAA, a not-for-profit organization. It is distributed for free to over 22,000 subscribers worldwide to inform them about the key developments in biosciences, especially in biotechnology. Your support will help us in our mission to feed the world with knowledge. You can help by donating as little as $10.