Scientists Battle to Stem Onslaught of Pseudoscience in Europe
May 25, 2016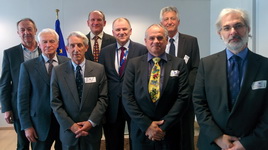 University of Leicester Professor Pat Heslop-Harrison has joined leading scientists across Europe in raising against the 'pseudoscience' concerning regulation of compounds used in agriculture, healthcare, and industry.
Professor Heslop-Harrison and fellow scientists met Dr. Vytenis Andriukaitis, European Commissioner of Health and Food Safety earlier this month. The scientists highlighted that some people are being 'deliberately selective' in presentations of risks, including those from glyphosate herbicides, new plant breeding technologies and endocrine disrupting chemicals or EDCs.
In the discussion, Professor Heslop-Harrison said, the concern was raised that public perceptions about scientific assessments are currently distorted by people, often from NGOs and well-funded pressure groups. The European Parliament and European Commission have access to robust scientific advice, but this is not always being used in legislation because of these strongly expressed opinions. He added, "The reality is that there is no robust, consistent scientific evidence to support these dogmatic stances, and indeed most of the robust evidence points in the opposite direction for some of the chemicals and techniques now being considered as subject to extra regulation."
For more details, read the news release at the University of Leicester website.
Biotech Updates is a weekly newsletter of ISAAA, a not-for-profit organization. It is distributed for free to over 22,000 subscribers worldwide to inform them about the key developments in biosciences, especially in biotechnology. Your support will help us in our mission to feed the world with knowledge. You can help by donating as little as $10.