"The answers draw on a wide range of evidence and give some specific examples. In general, it is important to recognise that when the GM method is used, the crops produced should be assessed on a case by case basis. GM is a method, not a product in itself. Different GM crops have different characteristics and it is impossible, from a scientific point of view, to make a blanket statement that all GM is good or bad," said Venki Ramakrishnan, President of the Royal Society.
Philippine American Academy of Science and Engineering Calls for Resumption of Bt Eggplant Research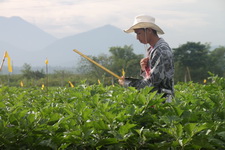 In a statement, the Philippine American Academy of Science and Engineering (PAASE) expressed strong support for the continuation of research and development and field testing of Bt eggplant in the Philippines, following the Supreme Court order halting its field testing last December 2015. Under the new biosafety guidelines of the Philippines signed by five government departments (Joint Department Circular No. 1, Series of 2016, titled Rules and Regulations for the Research and Development, Handling and Use, Transboundary Movement, Release into the Environment, and Management of Genetically-Modified Plant and Plant Products Derived from the Use of Modern Biotechnology), PAASE urged "all parties involved to take prompt and responsible actions…to implement the resumption and continuation of said research."

A biweekly update on genome editing research, regulations, and impact
produced by ISAAA Inc.

A monthly update on gene drive research and development provided by ISAAA in collaboration with the Outreach Network for Gene Drive Research
The Crop Biotech Update is a weekly newsletter of ISAAA, a not-for-profit organization. The CBU is distributed for free to over 23,000 subscribers worldwide to inform them about the key developments in biosciences, especially in agricultural biotechnology. Your support will help us in our mission to feed the world with knowledge. You can help by donating as little as $10.