Philippine Government Approves Revised GM Regulations
March 9, 2016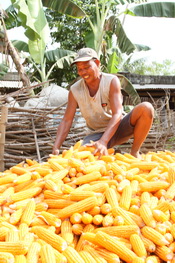 The Joint Department Circular (JDC) titled Rules and Regulations for the Research and Development, Handling and Use, Transboundary Movement, Release into the Environment, and Management of Genetically-Modified Plant and Plant Products Derived from the Use of Modern Biotechnology was finally approved and signed by the secretaries of the Philippine government's Departments of Agriculture (DA), Science and Technology (DOST), Environment and Natural Resources (DENR), Health (DOH), and Interior and Local Government (DILG) as of March 7, 2016. The JDC was drafted in response to the nullification of the DA Administrative Order No. 8 by the Supreme Court last December 8, 2015. It was the product of five multisectoral public consultations held by the National Committee on Biosafety of the Philippines (NCBP) in January-February 2016 in Cagayan De Oro City, Cebu City, and Quezon City, where stakeholders from the academe, farmers, industry, and civil society organizations participated. Comments from stakeholders were also solicited through the NCBP website.
This development is expected to lift the temporary ban on research, field testing, commercialization, and importation of GM crops and biotech products in the country brought about by the Supreme Court decision which was met with criticisms from the scientific and academic community, farmer groups, traders, food and feed processors, and livestock producers as well as disappointment from farmers who are looking forward to better quality GM seeds, particularly the insect resistant Bt talong (eggplant), the field trials of which were permanently stopped by the high court. According to economic studies, Bt talong can have significant socioeconomic benefits for both farmers and consumers such as reduction in chemical pesticide use. It is expected to greatly benefit major eggplant producing provinces such as Pangasinan, which has high insect pest pressure from Bt talong's target insect, the fruit and shoot borer.
The JDC can be downloaded from the NCBP website. For more information about agri-biotech developments in the Philippines, visit the website of the Southeast Asian Regional Center for Graduate Study and Research in Agriculture – Biotechnology Information Center (SEARCA BIC).
Biotech Updates is a weekly newsletter of ISAAA, a not-for-profit organization. It is distributed for free to over 22,000 subscribers worldwide to inform them about the key developments in biosciences, especially in biotechnology. Your support will help us in our mission to feed the world with knowledge. You can help by donating as little as $10.