Food Biotechnology Communicating Workshop for Agricultural Professionals Concludes in Indonesia
November 18, 2015
A parallel conference and workshop program on communicating food and agricultural biotechnology has been concluded in Denpasar and Bogor, Indonesia on 19 and 21 October 2015, respectively. The event was aimed to engage officials, scientists and agricultural professionals to build competence, capacity and effectiveness in communicating food and agricultural biotechnology through traditional and social media. The conference also presented science communication tools and best practices from regional and global experts to more effectively communicate the science and the realities of traditional, contemporary and modern agricultural technologies. This will help farmers and consumers make informed-decisions about the utilization and benefits of the technology. Prominent speakers were Dr. Erna Maria Lokollo from Ministry of Agriculture, Mrs. Zulfiani Lubis, an Indonesian senior journalist and Mrs. Dewi Hughes, an Indonesian media expert as well as communication experts from International Food Information Council (IFIC): Kimberly Reed, Dr. Alan Mc. Hughen, Dr. Andrew Benson, Helen Yu and Dr. Steven Venette.
Prof. Dr. Ketut Budi Susrusa, Vice Rector of Udayana University and Mr. Thom Wright of USDA Foreign Agricultural Service officially opened the workshop in Denpasar and Bogor respectively and addressed the importance of biotech communication and the need to promote biotechnology to the public in Indonesia to some 106 participants.
The workshop was organized by the Indonesian Biotechnology Information Center (IndoBIC) in collaboration with the International Food Information Council (IFIC), USDA Foreign Agricultural Services, Udayana University and supported by Indonesian Society for Agricultural, SEAMEO BIOTROP, and ISAAA.
Dr. Alan Mc. Hughen from University of California Riverside discussed scientific misconceptions, barriers, and opportunities for wider acceptance of agricultural biotechnology; Dr. Steven Venette from University of Southern Mississippi discussed the principles and best practices in food risk communication. Meanwhile, Dr. Erna Maria Lokollo from Ministry of Agriculture shared information on inter-agency coordination of communications regarding biotechnology; Helen Yu, Zulfiani Lubis and Dewi Hughes shared their expertise on how to develop message and talking to the media especially in Indonesia perspective.
The workshop was also concluded with a simulation on-camera and media interview exercises and presentations.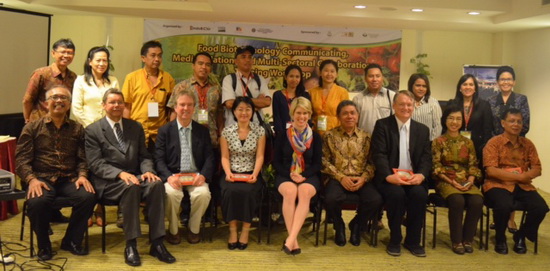 For details of the workshop contact Dewi Suryani of IndoBIC at catleyavanda@gmail.com.
Biotech Updates is a weekly newsletter of ISAAA, a not-for-profit organization. It is distributed for free to over 22,000 subscribers worldwide to inform them about the key developments in biosciences, especially in biotechnology. Your support will help us in our mission to feed the world with knowledge. You can help by donating as little as $10.