New Book about 20 Years of Experience with GM Crops
November 18, 2015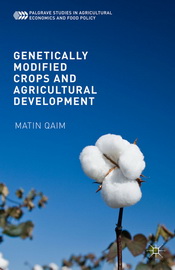 In spite of the rapid adoption of GM crops, their use remains contentious. Public opposition and overregulation have become real threats to further developments in modern plant sciences. It is widely believed that GM crops are bad for human health, damage the environment, and hurt smallholder farmers in developing countries, but research shows that the opposite is true. Matin Qaim, a professor of agricultural economics in Germany, has studied the impacts around the world. He has now written a book about his 20 years of experience. The book "Genetically Modified Crops and Agricultural Development" was recently published by Palgrave Macmillan.
In the book, Qaim reviews the impacts of current and possible future GM crop applications and shows that these technologies can contribute substantially to sustainable agricultural development and food security. Popular narratives about "Frankenfoods," "Genetic Contamination," and "Terminator Genes" are deconstructed. Qaim uses a political-economy perspective to explain the emergence and success of the protest industry. He concludes that continued opposition to technologies that were shown to be beneficial and safe entails unnecessary human suffering and environmental degradation. But he remains optimistic and shows what needs to be done in order to advance GMOs responsibly in the future.
In his foreword to the book, Professor Chris Barrett (Cornell University) writes: "I can think of no better scholar to introduce this hot-button topic than Matin Qaim." Professor Calestous Juma (Harvard University) says: "This path-breaking book combines intellectual courage and analytical rigor. It brings balanced research and sobriety to one of the most controversial technological developments of the early twenty-first century."
Read more at Palgrave Macmillan.
Biotech Updates is a weekly newsletter of ISAAA, a not-for-profit organization. It is distributed for free to over 22,000 subscribers worldwide to inform them about the key developments in biosciences, especially in biotechnology. Your support will help us in our mission to feed the world with knowledge. You can help by donating as little as $10.