Egyptian and Indian Scientists Discuss Biotech as Sustainable Approach to Development
November 18, 2015
The 1st Egyptian-Indian workshop on biotechnology with the theme Biotechnology – A Sustainable Approach for Development was held at the Academy of Scientific Research and Technology (ASRT) under the auspices of the Minister of High Education and Scientific Research, Prof. Ashraf Shihi (represented by Prof. Hazem Mansour), and the President of ASRT, Prof. Mahmoud Sakr, on October 25-26, 2015. In his speech, Prof. Sakr discussed the benefits of this collaboration to both countries and how Egypt work hard to cope with the rapid development in science especially in the field of biotechnology. The workshop aimed to share experiences, promote science and education, and discuss policy issues related to developing countries and to open the door for collaboration between the two countries.
Indian experts from University of Delhi, Institute of Himalayan Bioresearch Technology, Guru Nanak University, ICAR-Indian Agricultural Research Institute, and Indian Institute of Science Education and Research Bhopal participated in the workshop. They covered different fields in agriculture and biotechnology, including abiotic stresses and biodiversity.
From Egypt, Prof. Naglaa Abdallah, Director of the Egyptian Biotechnology Information Center and Head of the Department of Genetics at Cairo University, talked about the challenges and opportunities in biotechnology and genome editing. She compared the two strategies used for improving crops at the level of development, public acceptance, and regulation issues. Prof. Moemen Hanafy, scientist at the National Research Center, gave a presentation on developing transgenic soybean and faba bean to solve problems related to biotic and abiotic stresses. Dr. Shireen Assem, the Director of Agricultural Genetic Engineering Research Institute (AGERI) talked about the modern biotechnology techniques to promote agricultural productivity. In addition, Dr. Aladdin Hamwieh from International Center for Agricultural Research in the Dry Areas (ICARDA) talked about their project for developing large-seeded Kabuli chickpea.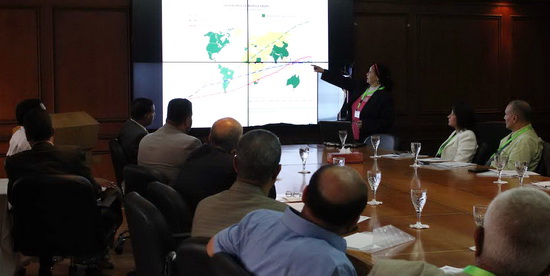 For more information, contact Prof. Naglaa Abdallah naglaa.abdallah@agr.cu.edu.eg.
Biotech Updates is a weekly newsletter of ISAAA, a not-for-profit organization. It is distributed for free to over 22,000 subscribers worldwide to inform them about the key developments in biosciences, especially in biotechnology. Your support will help us in our mission to feed the world with knowledge. You can help by donating as little as $10.