EFSA: Glyphosate Unlikely to Cause Cancer
November 18, 2015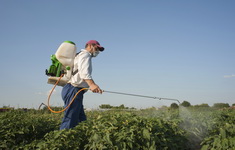 A peer review expert group composed of scientists from the European Food Safety Authority (EFSA) and representatives of risk assessment bodies in EU Member States have finalized the reassessment of glyphosate. The report concludes that glyphosate is unlikely to be genotoxic (damaging to DNA), or to pose a carcinogenic hazard to humans, and proposes a new safety measure that will tighten the control of glyphosate residues in food.
The group has set an acute reference dose (ARfD) for glyphosate of 0.5 mg per kg of body weight, the first time such an exposure threshold has been applied to the substance. Glyphosate is not to be classified as carcinogenic under the EU regulation for classification, labeling, and packaging of chemical substances. All the Member State experts but one agreed that neither the epidemiological data nor the evidence from animal studies showed causality between exposure to glyphosate and the development of cancer in humans.
The review also proposed toxicological safety thresholds. The acceptable operator exposure level (AOEL) was set at 0.1 mg/kg body weight per day and an acceptable daily intake (ADI) for consumers was set in line with the ARfD at 0.5 mg/kg body weight per day. Jose Tarazona, who heads EFSA's Pesticides Unit, said "By introducing an acute reference dose we are further tightening the way potential risks from glyphosate will be assessed in the future. Regarding carcinogenicity, it is unlikely that this substance is carcinogenic."
For more information, read the news release at the EFSA website.
Biotech Updates is a weekly newsletter of ISAAA, a not-for-profit organization. It is distributed for free to over 22,000 subscribers worldwide to inform them about the key developments in biosciences, especially in biotechnology. Your support will help us in our mission to feed the world with knowledge. You can help by donating as little as $10.