Scientists Value Scicom But Spend Little Time Communicating Biotech to the Public
September 24, 2014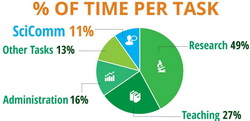 Studies have shown that university professors and public sector scientists are regarded by the public as highly credible sources of information on biotechnology. Thus, their role in communicating biotechnology is critical.
ISAAA conducted a survey to investigate how scientists and academics view science communication (scicom) and their role in public awareness and understanding. Over 200 respondents from 63 different research institutions and universities in Indonesia, Malaysia, and the Philippines were involved in the study.
Results showed that although the scientists and academics recognize the importance of science communication, they only devote a small portion of their time in public engagement. Almost half of the respondents (40%) had low level of engagement (1-10 activities per year), mostly conducted for students and staff outside their host institution with an objective of fostering awareness and understanding on biotechnology. Only 10% attended formal training on communicating biotechnology, which were mostly sponsored by non-governmental organizations. According to the scientists and academics, with more funds and training, they would be more encouraged to engage with the public.
Download the infographics on this study at http://www.isaaa.org/resources/infographics/scicomm2014/scicomposter2014.jpg.
The study was conducted by Ms. Kristine Tome, Dr. Mariechel Navarro, and Dr. Rhodora Aldemita of the Global Knowledge Center on Crop Biotechnology (KC). The research article was published in the latest issue (August 2014) of The Philippine Journal of Crop Science, http://www.cssp.org.ph/pjcs/abstracts. For more information about the study, contact ktome@isaaa.org.
Biotech Updates is a weekly newsletter of ISAAA, a not-for-profit organization. It is distributed for free to over 22,000 subscribers worldwide to inform them about the key developments in biosciences, especially in biotechnology. Your support will help us in our mission to feed the world with knowledge. You can help by donating as little as $10.
See more articles:

News from Around the World

Research Highlights

From the BICs

Announcements


Read the latest:


Subscribe to BU: