ISAAA Releases New Educational Booklet on Crop Biotech
May 25, 2012
ISAAA's Global Knowledge Center on Crop Biotechnology released a new educational booklet called Biotech sQuizBox during the convention of the Biotechnology Coalition of the Philippines (BCP) at Traders Hotel, Manila on 17-18 May 2012.
Biotech sQuizBox is an accordion-type cartoon publication that aims to inform secondary school students about crop biotechnology. One side of the booklet contains snippets of basic information about the history, development, and benefits of biotech crops. The other side of the booklet challenges the readers to answer exciting quizzes to further understand the subject matter. The activities include DNA extraction exercise, scientist appreciation activity, puzzles, and word problem, which can be done individually or as a group in science classes.
The publication was illustrated by Stephanie Bravo-Semilla, a cartoonist from the Philippine Daily Inquirer, and second prize winner of BiotechTOONS Contest organized by ISAAA and Southeast Asian Regional Center for Graduate Study and Research in Agriculture – Biotechnology Information Center (SEARCA BIC) in November 2011.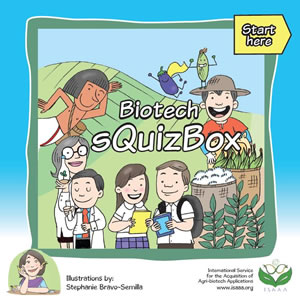 Download a copy of Biotech sQuizBox at http://www.isaaa.org/resources/publications/biotech_squizbox/2012/download/default.asp
Biotech Updates is a weekly newsletter of ISAAA, a not-for-profit organization. It is distributed for free to over 22,000 subscribers worldwide to inform them about the key developments in biosciences, especially in biotechnology. Your support will help us in our mission to feed the world with knowledge. You can help by donating as little as $10.