EMBRAPA Enhances Biosafety Communication Capacity of Journalists
November 18, 2011
Scanty knowledge on modern biotechnology and inadequate flow of information from experts to journalists has hindered understanding and hence effective reporting on agricultural biotechnology in Brazil. This was the verdict of more than 40 journalists from EMBRAPA - Brazilian Agricultural Research Corporation, who attended a biosafety and risk communication training course in Brasilia, Brazil on 8-9 November 2011.
The training was organized by the Latin America – LAC Biosafety (www.lacbiosafety.org) project and provided a unique opportunity for journalists from EMBRAPA, who serve as liaison between the institution and the various stakeholders served. It aimed at enhancing risk communication capacities on research and commercialization of biotech crops in the country.
The journalists called on EMBRAPA scientists and researchers to be more open and share research findings on both benefits and risks associated with the technology throughout the project phases. Sandra Zambudio, one of the journalists said, "We do not want to do public relations on the technology but to communicate objectively about its products, we however do not get all the information from experts." The journalists recommended the need for training on basics of biotechnology to enable them put into context stories about the various projects in the country. They also proposed that EMBRAPA scientists should reach out to the journalists and familiarize themselves on how media operates, for mutual benefit in communicating effectively about modern biotechnology.
Dr. Margaret Karembu of ISAAA Africenter served as the resource person for the biosafety communication session and was complemented by Drs. Olivia Nagy Arantes and Deise Maria Fontana Capalbo of EMBRAPA, LAC-Biosafety, Brazil.
In September 2011, the National Technical Commission on Biosafety (CTNBio) approved a genetically modified (GM) bean resistant to the golden mosaic virus, the first transgenic plant that is entirely produced by public research institutions.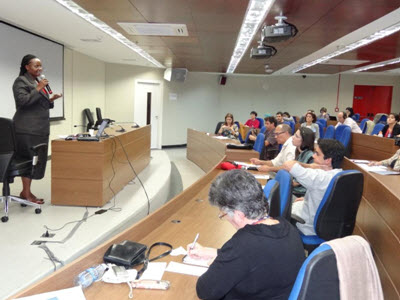 For more on the training and other news on biosafety in Brazil email Deise M. F. Capalbo, LAC Biosafety Project Coordinator for Brazil at deise@cnpma.embrapa.br.
The Crop Biotech Update is a weekly newsletter of ISAAA, a not-for-profit organization. The CBU is distributed for free to over 23,000 subscribers worldwide to inform them about the key developments in biosciences, especially in agricultural biotechnology. Your support will help us in our mission to feed the world with knowledge. You can help by donating as little as $10.
See more articles:

News from Around the World

Research Highlights

Beyond Crop Biotech

Announcements


Read the latest:


Subscribe to CBU: