Media Practitioners Enlightened About Biotechnology's Role in Changing Climate
August 5, 2011
Media practitioners from eight countries including the Philippines, Thailand, Malaysia, Cambodia, Vietnam, Indonesia, Korea and Pakistan participated in a workshop on "Status, Impacts and Future Prospects of Agri-biotechnology in a Changing Climate: A Regional Workshop for Media Practitioners" on July 20 to 22 in Jakarta, Indonesia. The workshop focused on the products of biotech crops and their potentials in solving the global challenges of feeding a growing population and helping adapt to the damaging effects of climate change. The workshop also tackled accurate and scientific biotech reporting for the media practitioners.
Among the speakers were Dr. Paul Teng, Dean of the Office of Graduate Studies and Professional Learning at the National Institute of Education, Singapore, who highlighted that biotechnology contributes to food security such that it can boost food production, reduce food losses and improve food quality and utilization; Dr. Frank Shotkoski, Director of the Agricultural Biotechnology Support Project II (ABSPII), who said that GM products being developed were based on the demand and solid socio-economic impact assessments. Among the most advanced public sector biotech crops in the pipeline include the Bt eggplant being developed in Bangladesh, India and the Philippines and the Golden Rice being studied by the Philippines, India, and other collaborating countries. Graham Brookes of PG Economics discussed the global socio-economic and environmental impact of biotech crops from 1996 to 2009.
The media participants also visited the Indonesian Center for Agricultural Biotechnology and Genetic Resources Research and Development (ICABIOGRAD) in Bogor and later had a writeshop. Participant Joseph Masilamany, a sub-editor for the Malaysian newspaper, The Sun, appreciated the relationship formed between the scientists and journalists during the workshop. Syatrya Utama from Indonesia noted the success stories of biotech adoption shared by Filipino farmer Rosalie Ellasus. Mr. Utama hoped that Indonesian farmer's would learn more of this first-hand experiences so that they would be able to understand the technology better.
The workshop was organized by SEARCA, SEAMEO Southeast Asian Regional Center for Tropical Biology (BIOTROP), the International Service for the Acquisition of Agri-biotech Applications (ISAAA), and ABSPII. It was also sponsored by Crop Life Asia.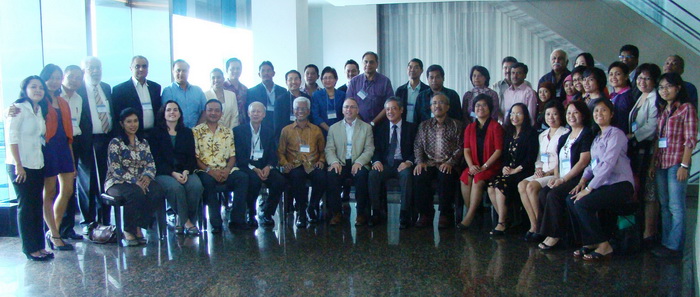 For more information about the workshop, visit http://www.bic.searca.org or e-mail bic@agri.searca.org.
Biotech Updates is a weekly newsletter of ISAAA, a not-for-profit organization. It is distributed for free to over 22,000 subscribers worldwide to inform them about the key developments in biosciences, especially in biotechnology. Your support will help us in our mission to feed the world with knowledge. You can help by donating as little as $10.