Workshop on LLP of Agri-Biotech Products in Indonesia
May 7, 2010
A workshop on Low Level Presence (LLP) of Agricultural Biotechnology Products in Commodity Shipments and Food was held on April 27 and 28, 2010 in Bogor and Jakarta to discuss LLP policy and regulatory decisions in LLP situations. LLP is the unintentional or inadvertent mixing of a grain commodity with small, insignificant quantities of another (transgenic) variety of grain. It has become an important concern since many countries have not adapted these processes to address the potential low level presence in their imports of GM material already authorized and being produced in other countries, but not yet approved (and therefore not intended to be present) in the importing country.
Dr. Guillaume Gruere of the International Food Policy Research Institute discussed the economic effects of LLP policy options under the Codex Annex, noting that the Codex Annex suggests a simplified procedure for GMOs approved by exporters but not yet by importers. He said that there are three key decision factors for effective implementation such as tolerance level, approval delays, and trust in the system.
Dr. Julian Adams of University of Michigan/USAID, Dr. Judy Chambers, director of Program for Biosafety Systems (PBS), and Mr. Abraham Manalo of Biotechnology Coalition of the Philippines also made presentations in the event. It was unanimous during the forum that Indonesia would benefit from adopting the LLP approach, especially if China starts to grow GM maize. The event was organized by the Indonesian Agency for Agricultural Research and Development (IAARD) of the Ministry of Agriculture in collaboration with PBS.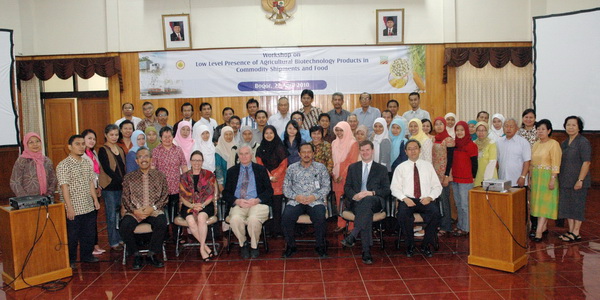 For details on the forum, contact Dewi Suryani of IndoBIC at catleyavanda@gmail.com.
Biotech Updates is a weekly newsletter of ISAAA, a not-for-profit organization. It is distributed for free to over 22,000 subscribers worldwide to inform them about the key developments in biosciences, especially in biotechnology. Your support will help us in our mission to feed the world with knowledge. You can help by donating as little as $10.