Adoption of Biotech Crops Crucial in Pakistan
January 9, 2019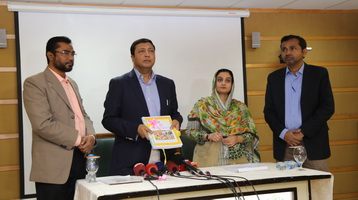 "Global food insecurity is the leading threat in the developing world. Strong political commitment to eliminate hunger is essential. Globally, biotech crops have contributed to food security, sustainability, and climate change by increasing crop productivity and helping alleviate poverty by uplifting the livelihood of farmers and agriculture-related workforce," Prof. Dr. M. Iqbal Choudhary, Director of the International Center for Chemical and Biological Sciences, University of Karachi (UoK) in Pakistan, and Pakistan Biotechnology Information Center (PABIC), expressed this view during the launch of ISAAA Brief 53: Global Status of Commercialized Biotech/GM Crops in 2017. Brief 53 was launched at a press conference held at UoK's Latif Ebrahim Jamal (LEJ) National Science Information Center on December 19, 2018.

The press conference, which was organized by PABIC, aimed to raise awareness of the tremendous potential of biotechnology commercialization for the sustainable development of Pakistan's economy. "This is really a good sign that Pakistan increased its irrigated cotton area by 3.4 percent or 100,000 hectares from 2.9 million hectares to 3 million hectares during 2017," said Prof. Choudhary. He added that for the last eight years, an estimated 725,000 smallholder Pakistani farmers have been benefiting from the economic gains in using biotech cotton. It is estimated that the economic gains from biotech crops for Pakistan for the period 2010 to 2016 was US$4.8 billion and US$483 million for 2016 alone, according to ISAAA Brief 53.
For more details about biotech crops in Pakistan, visit the PABIC website.
Biotech Updates is a weekly newsletter of ISAAA, a not-for-profit organization. It is distributed for free to over 22,000 subscribers worldwide to inform them about the key developments in biosciences, especially in biotechnology. Your support will help us in our mission to feed the world with knowledge. You can help by donating as little as $10.