Biotech Law Will Be Passed Soon in Uganda, S&T Chairperson Assures Farmers
November 28, 2018
"The law on biotechnology will be passed soon and you will be able to grow genetically modified crops on your farms," said Hon. Fred Bwino, current chairperson of the Science and Technology committee of the Ugandan parliament. Hon. Bwino, who represents Kigulu North Constituency, Iganga district, Eastern Uganda, was officiating at a biotechnology and biosafety education awareness workshop in his constituency on November 24, 2018.
Over 70 participants took part in the workshop, including farmer leaders, cultural and religious leaders, extension workers and representatives of key community civil society organizations. While giving his opening remarks, Hon. Bwino lauded the Uganda Biosciences Information Center (UBIC) and the National Agricultural Research Organization (NARO) for their on-going efforts of sensitizing the public on agricultural biotechnology. He noted that science and technology play a vital role in addressing the key challenges that the farmers are facing, and tools such as biotechnology come in handy to solve problems of climate change, pests and diseases, and stubborn weeds.
Mr. Nassib Mugwanya—Outreach Officer at UBIC revealed to participants the on-going research at NARO, and how the results have shown commendable benefits of pest resistance and drought tolerance in biotech crops such as maize.
In a separate but related development, UBIC facilitated a biotechnology community knowledge sharing and exchange activity among farmers in Busukuma Sub County, Wakiso district on November 17, 2018. During the activity, Jemimah Barisiyoy, a prominent farmer and community leader shared with over 20 farmer leaders her experience of using improved seed technologies on crops such as cassava and maize. Jemimah noted that improved varieties of crops such as cassava have been very helpful in dealing with disease problems in cassava. She urged participants to reach out to their respective area members of parliament to quickly enact a law that will enable them have access to more resistant varieties.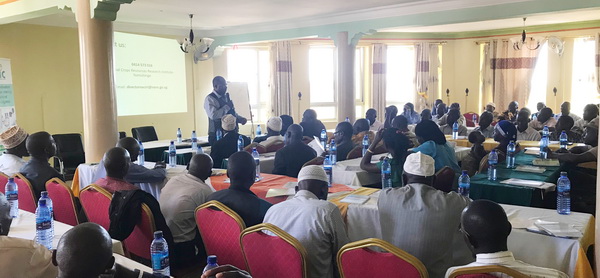 For more updates about biotech in Uganda, contact ubic.nacrri@gmail.com.
The Crop Biotech Update is a weekly newsletter of ISAAA, a not-for-profit organization. The CBU is distributed for free to over 23,000 subscribers worldwide to inform them about the key developments in biosciences, especially in agricultural biotechnology. Your support will help us in our mission to feed the world with knowledge. You can help by donating as little as $10.
See more articles:

News from Around the World

Research Highlights

Plant Breeding Innovations

Beyond Crop Biotech

Resources


Read the latest:


Subscribe to CBU: