Myanmar Recognizes Need for Biotech Research and Regulatory Boost
September 26, 2018
The Department of Agriculture of Myanmar, ISAAA and scientists from Tsukuba University organized a symposium where researchers, members of the academe and government executives converged to assess the status of biotech crop research and adoption in the country. The forum was attended by some 50 participants held at the Department of Agriculture seminar room on September 11, 2018.
Dr. Rhodora R. Aldemita, Director of ISAAA Global Knowledge Center on Crop Biotechnology presented the highlights of the ISAAA report on the Global Status of Commercialized Biotech/GM Crops: 2017. Mr. Bhagirath Choudhary of ISAAA-South Asia Biotech Center discussed the key points of the biotech adoption in Asia. Department of Agriculture Director, Ye Tint Tun, expressed his gratitude to the organizers and detailed the need for the country to revise the draft biosafety guideline, strengthen research and manpower capacity, and forge international partnership to revolutionize agriculture in Myanmar.
Deputy Director General of the Department of Planning Kyaw Swe Lin, acknowledged the contribution of biotech cotton in Myanmar's improving economy and mentioned that other biotech crops can be cultivated in the country once the biosafety guidelines are revised and functioning. Nine scientists from research institutions across the country discussed ongoing biotech research projects, as well as their challenges and needs. Current biotech research in Myanmar includes tissue culture, molecular marker-aided breeding, and Bt gene introgression to other cotton varieties.
Representatives from ISAAA, University of Tsukuba, as well as guests from United States Agency for International Development and US Department of Agriculture Foreign Agricultural Service indicated their willingness to help the country in their determination to harness the potentials of biotechnology. They also provided key steps that Myanmar could take towards this path.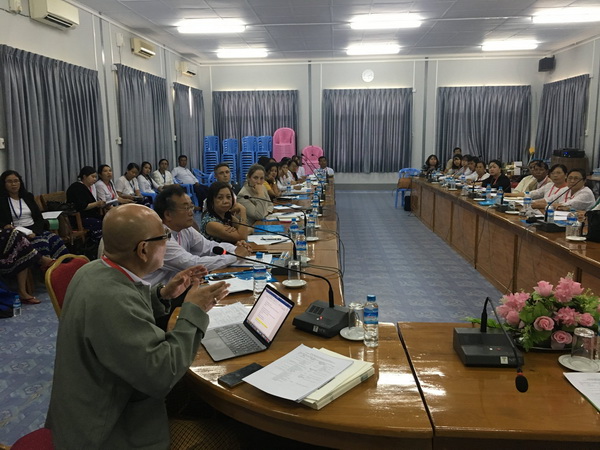 For more details, contact knowledge.center@isaaa.org.
Biotech Updates is a weekly newsletter of ISAAA, a not-for-profit organization. It is distributed for free to over 22,000 subscribers worldwide to inform them about the key developments in biosciences, especially in biotechnology. Your support will help us in our mission to feed the world with knowledge. You can help by donating as little as $10.
See more articles:

News from Around the World

Research Highlights

Beyond Crop Biotech

Plant


Read the latest:


Subscribe to BU: