PABIC Organizes SciCom and Policy Making Lecture
August 1, 2018
Pakistan Biotechnology Information Center (Lahore Chapter) organized a lecture on science communication and policy making by Mr. Ehsan Masood at Forman Christian College (a chartered University) in Lahore, Pakistan on July 27, 2018. Members of the Mass Communication and Biotechnology departments along with the Center for Public Policy attended the lecture.
Mr. Masood talked about the importance of policy making in the development of science in Pakistan. He also enlightened the audience on the history of GDP in Pakistan and how people can improve the circumstances today. He also discussed a few points from his book "The Great Invention." Mr. Masood has taught at Imperial College London, former Commissioning Editor at Nature, and recently named as one of the 2017-2018 Knight Science Journalism fellows at Massachusetts Institute of Technology.
After the lecture, a discussion between the researchers and future journalists and they emphasized that Pakistan is in need of effective policy making to push the economy through science and agriculture.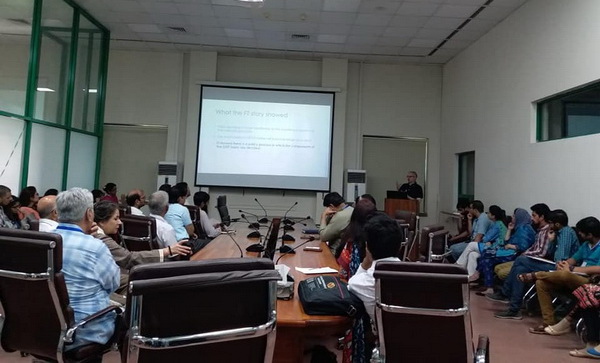 To learn more about agricultural biotechnology in Pakistan, visit the PABIC Lahore website.
Biotech Updates is a weekly newsletter of ISAAA, a not-for-profit organization. It is distributed for free to over 22,000 subscribers worldwide to inform them about the key developments in biosciences, especially in biotechnology. Your support will help us in our mission to feed the world with knowledge. You can help by donating as little as $10.