Biotech Discussed at National Plant Variety Protection Dialogue in Uganda
August 1, 2018
The Plant Variety Protection (PVP) Act, 2014 was enacted by the Parliament of Uganda in 2013, and assented to by President Yoweri Museveni in 2014. The legislation was formulated to recognize and protect breeders' rights over the varieties they develop, and promote appropriate mechanisms for fair and equitable benefit sharing from the use of plant varieties, knowledge, and technologies. However, nearly four years on, the Act is yet to be operationalized. National Agricultural Research Organization and African Agricultural Technology Foundation organized a one-day workshop, the National Stakeholders Dialogue for Strengthening the Plant Variety Protection System in Uganda on July 25, 2018 at Imperial Royale Hotel, Kampala.
The stakeholders discussed strategies to address some of the concerns that have previously hampered the operationalization of the PVP Act. Biotechnology dominated proceedings during the discussion with stakeholders pointing out the 'unique' complications associated with the technology. They emphasized that the technology has remained clouded by negative propaganda worldwide. While discussing the global status of plant breeders' rights, Prof. Phinehas Tukamuhabwa, a renowned soybean breeder at Makerere University, highlighted the challenges raised by modern agricultural biotechnology, which he referred to as an often politically sensitive topic. He noted that biotechnology plays an important role in modern plant breeding. "Almost all biotechnological innovations—processes, genes, sequences and tools are patentable," he asserted. These require statutory protection. It is noteworthy that Uganda has the highest number of genetically modified crop field trials in Africa.
Makerere University's Prof. Patrick Rubaihayo wondered why Uganda is quick to sign treaties, but does not follow through on their specific requirements. "Uganda was one of the first countries to sign and ratify the Cartagena Protocol, but has yet to enact a biosafety law," he lamented. Uganda's biotechnology and biosafety law was passed by Parliament in October 2017 but until now it is yet to be assented to by the His Excellency the President. Some Ugandan farmers are excited that neighboring countries like Kenya and Ethiopia have approved environmental release of GM cotton and are looking forward to crossing the borders to access the seed.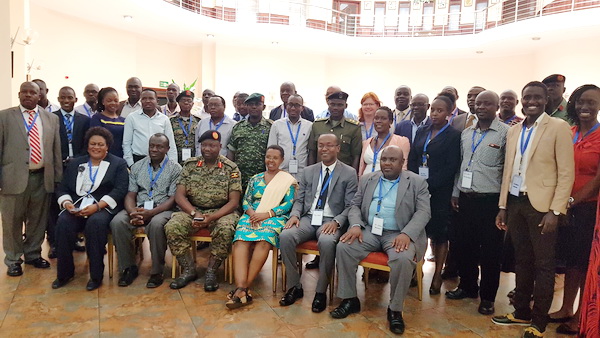 For more details, send an e-mail to ubic.nacrri@gmail.com.
Biotech Updates is a weekly newsletter of ISAAA, a not-for-profit organization. It is distributed for free to over 22,000 subscribers worldwide to inform them about the key developments in biosciences, especially in biotechnology. Your support will help us in our mission to feed the world with knowledge. You can help by donating as little as $10.