Experts Review Social and Economic Impacts of Biofortification through Biotech
August 1, 2018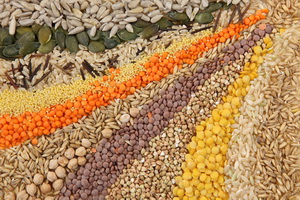 Biofortification of crops through genetic modification can effectively lessen the burden of micronutrient deficiencies in an economically viable way. This is according to review article authored by economics and policy experts from the International Rice Research Institute (IRRI), Ghent University, and European Commission and published in Current Opinion in Biotechnology.
Matty Demont, Senior Economist at IRRI, presented the highlights of their review article during the The Economics of Biotech Crops: A Symposium to Promote Economic and Financial Literacy symposium held on July 17, 2018 at the SEARCA Umali Auditorium, Los Baños, Laguna, Philippines.
According to Demont, biofortification complements current interventions to address micronutrient deficiency such as supplementation, industrial fortification of food products, and dietary diversification. Biofortification is generally a beneficial option because of its long-term cost-effectiveness, and the potential to reach the underserved, rural populations, especially in areas with high burden of hidden hunger. To date, there are several research on using GM to biofortify food crops such as the Golden Rice project, however, no GM biofortified crop is available in the market. They analyzed the consumers' willingness to pay for such products in case they become commercially available and concluded that consumers are willing to pay more for biofortified products when direct consumer benefits are presented to them.
Read the abstract from Current Opinion in Biotechnology.
Biotech Updates is a weekly newsletter of ISAAA, a not-for-profit organization. It is distributed for free to over 22,000 subscribers worldwide to inform them about the key developments in biosciences, especially in biotechnology. Your support will help us in our mission to feed the world with knowledge. You can help by donating as little as $10.