ISAAA Reports New Record-High Adoption of GM Crops
July 4, 2018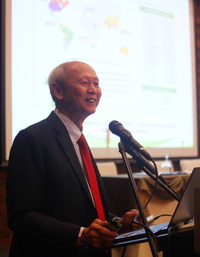 The International Service for the Acquisition of Agri-biotech Applications (ISAAA) launched the annual report on the Global Status of Commercialized Biotech/GM Crops: 2017 (ISAAA Brief 53) through a media conference held on June 26, 2018 at Acacia Hotel, Manila, Philippines. The report is the 22nd of the ISAAA series of global status reports documenting the latest information on the adoption and benefits of biotech crops. The event, which was co-organized by the SEARCA Biotechnology Information Center (SEARCA BIC), presented an opportunity for media partners to connect with scientists and experts, representatives from the national government, and partners in the biotech community.
ISAAA Board Chair, Dr. Paul Teng, presented the report, including the global impact, economic benefits, and future prospects of biotech crops. He reported that biotech crop land area reached a new record-high adoption at 189.8 million hectares worldwide in 2017. Also notable was the increase in biotech crop area in developing countries, continuously surpassing those in industrial countries in terms of total land area, with 100.6 M ha and 89.2 M ha, respectively.
Dr. Teng added that the global GM crop area is expected to expand in the coming years and that new biotech crops and traits in different parts of the globe are now in the pipeline. Highlighting the importance of regulations, Dr. Teng stated, "Science-based regulations are very important. If we cannot use science, we have no ground to stand on. It cannot be based on perceptions alone as these are often proven wrong. Science is what we have in the moment as a tool to show that something is credible." He also shared that the global farm income gains contributed by biotech crops in the last 21 years (1996-2016) have amounted to US$186.1 billion, benefitting more than 17 million farmers, 95% of whom come from developing countries.
Download the ISAAA Brief 53 Full Report, Executive Summary, Press Release, Infographics, and Presentation Slides from the ISAAA website.
Biotech Updates is a weekly newsletter of ISAAA, a not-for-profit organization. It is distributed for free to over 22,000 subscribers worldwide to inform them about the key developments in biosciences, especially in biotechnology. Your support will help us in our mission to feed the world with knowledge. You can help by donating as little as $10.
See more articles:

News from Around the World

Research Highlights

Beyond Crop Biotech

From the BICs

Announcements

Plant


Read the latest:


Subscribe to BU: