Legislators Bat for the Advancement of Agri-biotech in PH
May 23, 2018
Filipino lawmakers on Monday called for the continued advancement of
biotechnology
in the
country
during the opening of the Biotechnology Exhibit in the House of Representatives themed
Bioteknolohiya: Pambansang Hamon, Pambansang Solusyon
(
Biotechnology: Our Nation's Challenge, Our Nation's Solution
). The exhibit was organized by the Department of Agriculture's Biotechnology Program Office from May 21-24, 2018 at the North Wing Lobby of the House of Representatives. It is one of the many lined up activities in celebration of the National Biotechnology Week in November 2018.
Expressing his support, House Speaker Pantaleon Alvarez stressed that agricultural biotechnology is an excellent option for increased productivity and improved nutrition and that the rewards that the country can get from the innovation ultimately outweigh the risks. Rep. Ferjenel Biron, Chairman of the House Committee on Trade and Industry, read the Speaker's message on his behalf.
"Biotechnology is an innovation that cannot be put to waste. It is indeed a progressive solution that will help alleviate, if not completely solve, our issues on food security, poverty, rural progress, and even climate change," House Speaker Alvarez further said.
Deputy House Speaker Sharon Garin also attested to the benefits of biotechnology. "The Province of Iloilo is now at the forefront of corn production. Many farmers in some of the poorest areas of the province are now telling success stories of biotechnology. They can now send their children to school and build decent homes," she shared in her speech. Rep. Garin advocated the infusion of technology in agriculture. "Agriculture cannot stand by itself for the survival of the Filipinos. If we want more income for our farmers and more production for food consumption, then we need biotechnology," she added.
House Speaker Alvarez likewise enjoined his fellow legislators to work together and strengthen their support for the endeavor, and appealed to Filipino scientists to continue fighting the good fight for the benefit of farmers wholely on their crops for their livelihood, and the consumers, the families, and the communities who rely on the farmers for food on their table.
Dr. Rhodora R. Aldemita, Director of the International Service for the Acquisition of Agri-biotechnology Applications (ISAAA) Global Knowledge Center on Crop Biotechnology, presented the Global Adoption and Benefits of Biotech/GM Crops during the opening program. A special screening of the documentary, Food Evolution, was held on May 23 as part of the activity. Eight (8) agencies participated in the exhibit including ISAAA and the Southeast Asian Regional Center for Graduate Study and Research in Agriculture - Biotechnology Information Center (SEARCA BIC).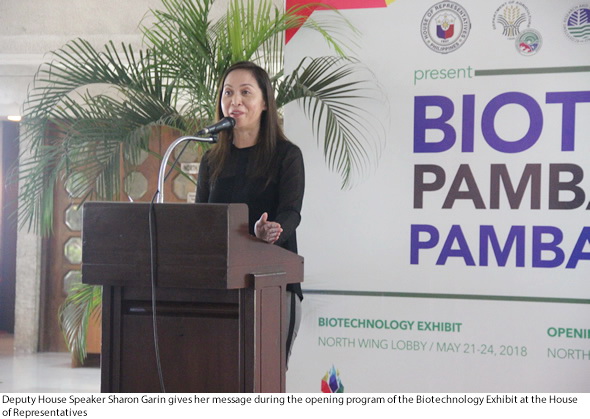 For more information about biotech in the Philippines, visit the SEARCA BIC website.
The Crop Biotech Update is a weekly newsletter of ISAAA, a not-for-profit organization. The CBU is distributed for free to over 23,000 subscribers worldwide to inform them about the key developments in biosciences, especially in agricultural biotechnology. Your support will help us in our mission to feed the world with knowledge. You can help by donating as little as $10.
See more articles:

News from Around the World

Research Highlights

Plant Breeding Innovations

Beyond Crop Biotech

Announcements


Read the latest:


Subscribe to CBU: