Study Says GM Potato Can Help Cut Pesticide Use by Up to 90%
May 23, 2018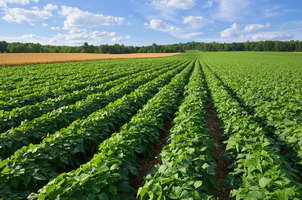 A new study conducted by a team of scientists from Wageningen University & Research and Teagasc, the Irish Agriculture and Food Development Authority reveals that a potato variety genetically engineered to resist potato blight can help reduce the use of chemical fungicides by up to 90 percent. The approach uses two tools: a genetically modified (GM) potato along with a new pest management strategy.
Potato blight, caused by the water mold Phytophthora infestans, causes significant losses to potato farmers worldwide. Farmers resort to spraying their crops with fungicides on a weekly basis to control the disease.
The international team of scientists developed the IPM2.0 approach which involves growing blight-resistant potato crops and monitoring an active pathogen population and a "do not spray unless" fungicide use strategy. This strategy means farmers will not apply fungicides unless a potato variety is at risk by a pathogen. The team tested their strategy over several years in potato-growing countries Ireland and the Netherlands using three potato varieties: a susceptible variety called Désirée, resistant variety Sarpo Mira, and a resistant version of the Désirée which received a resistance gene from a wild relative through cisgenesis.
The susceptible potato variety and the two resistant ones were cultivated comparing common practice, with fungicides applied on a weekly basis, and the IPM2.0 method. The IPM2.0 strategy on the susceptible variety Désirée, resulted in an average reduction of 15% on the fungicide input. Both resistant varieties, however, remained healthy with an average 80 to 90% reduction of the fungicide input.
For more details, read the Wageningen University & Research News.
The Crop Biotech Update is a weekly newsletter of ISAAA, a not-for-profit organization. The CBU is distributed for free to over 23,000 subscribers worldwide to inform them about the key developments in biosciences, especially in agricultural biotechnology. Your support will help us in our mission to feed the world with knowledge. You can help by donating as little as $10.
See more articles:

News from Around the World

Research Highlights

Plant Breeding Innovations

Beyond Crop Biotech

Announcements


Read the latest:


Subscribe to CBU: